रहम करो सूरज दादा !( Raham Karo Suraj Dada)
Heat waves during Indian Summer (
Lu
as it is called in northern India )  is not a new phenomenon but its severity increased this year (2015) in southern Indian states of
Andhra Pradesh
and
Telangana
due to humidity in that region. Because of humidity sweat don't dry easily thus inhibiting the cooling mechanism of our body. More than 2000 people have died already and chances of more death can't be ruled out. We can only pray that
Suraj Dada
( Sun God ) shower some mercy on us by reducing His intensity of anger. This poem in Hindi is pleading to him to have mercy in spite our mistakes of cutting down trees and increasing pollution.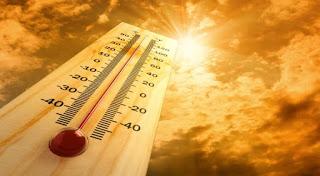 रहम करो सूरज दादा !अपना गुस्सा करलो आधा। सूखने लगी नदिया रानी,तड़पत हैं हम बिन पानी। 
Raham karo suraj dada!Apna gussa karlo aadha.Sookhne lagi nadiya rani,Tadpat hain hum bin pani.
माना पेड़ हमने काटे,सरे जंगल आपस में बाटे,प्रदूषित कर के जल-वायु,ख़तरे में डाली अपनी आयु। 
Mana ped humne kate,Sare jungle aapas mein bate,Pradushit karke jal-vayu,Khatre mein dali apni aayu.
पर सोचो निर्धन मज़दूरों की,क्या गलती है उन्होंने की ?करे कोई - भरे कोई !ये इन्साफ प्रभु है ठीक नहीं। 
Par socho nirdhan mazduron ki,Kya galti hai unhone ki?Kare koi - bhare koi ! Ye insaaf prabhu hai theek nahin.
अब थोड़े ठंडे हो जाओ,परेशानों को और ना सताओ,आज मुझसे कर लो वादा,तुम रहम करोगे सूरज दादा। 
Ab thode thande ho jao,Pareshanon ka aur na satao,Aaj mujhse karlo vada,Tum raham karoge Suraj dada.
रहम
(Raham) -
Mercy ; 
सूरज
(Suraj) -
Sun ; 
सूखने
(sookhne) -
Getting Dry ; 
नदिया
(Nadiya) -
River ; 
तड़पत
(Tadpat) -
Yearning ; 
प्रदूषित
( pradushit) -
Polluted ; 
जल-वायु
(jal-vayu) -
Environment ; 
आयु
( aayu) -
Age ; 
निर्धन
(nirdhan) -
Poor ; 
इन्साफ
(Insaaf) -
Judgement