So what if India reached the semifinals? So what if they won every game convincingly? So what if the team won every match convincingly? So bloody what? They still LOST!!! How did they dare to lose at the semi-finals? It's ludicrous, shameful, and absolutely wrong!
These are not the ravings of the crazy Indian fan who lost half a lakh on illegally betting on the match but a very carefully thought out strategy by the news channel with the most amount of TRPs in India and something that probably sprang up in the mind of possibly the most influential journalist in the sub-continent.
Arnab Goswami created the hash tag #ShamedInSydney after the defeat of the BCCI cricket team at the Cricket World Cup, 2015. Times Now endorsed this awesome tag because hey why not? Isn't that what the country is going to do anyway? Start pelting the cricketers' houses and scream abuses at them and burn their posters and effigies? Might as well make a profit out of it while the rage lasts and might as well add fuel to the fire by aggravating a country that is already deeply disappointed by its team's loss.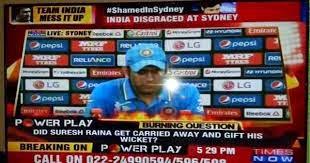 Image Courtesy: Google Images.
It is disheartening to see such a mainstream media house stoop to such levels as incite the public instead of consoling them in such times and congratulating a team that has played really well after performing very badly in a series just before the World Cup.
It goes against the ethics of the broadcaster's code as well as basic journalism. Hell! It even goes against human morality to aggravate public and turn them violent.
But, the response to this yellow and disgusting piece of journalism is one that I would not have expected from the Indian public. Thousands of people have got together on twitter to condemn the news channel for their actions and have unfollowed and/or blocked the channel on the social media site. This is a true example of the power that the public holds. India has shown this day that it is no longer the sheep that can be led where opinion leaders want them to go.
The people have also created a hash tag #ShameOnTimesNow to vent their anger at the irresponsible journalism of the channel. It is trending at this moment and is a delight like no other to see it do that.
It is the job and sacred responsibility of the media to show the truth, the whole truth, the unadulterated truth and nothing but the truth and Times Now has gone against everything in the above line and they will be punished for it.
Looks like Times Now is going to regret this one for a very long time.