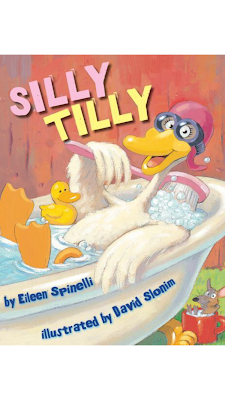 Remember the popular Airtel advert – "Hare ek friend jaruri hota hai (Each and every friend is important)"? This little picture book is all about that.
We all have that one friend we cannot live without at the same time is utterly intolerable. Tilly the Goose is exactly that friend among the farm animals.
Here goes the blurb:
"Tilly is not an ordinary goose. She takes her baths in apple juice. She wears a pancake as a hat. She tries to ride the farmer's cat."
But the barnyard animals complain that she's too silly. When she stops entertaining her friends with her antics, the farm becomes a quiet and unhappy place
What happens next? Read it out to find.
The illustrations are very vibrant and kids would love them. My son was continuously laughing and I had to repeat few sentences to him since he stopped listening in between. Here is the picture he liked the most.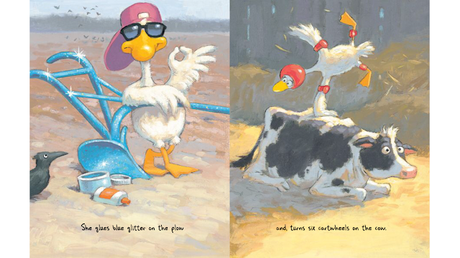 He loved it because he also knows cartwheels! But then, he is not silly to do them on a cow.
Grab the book now and read it aloud to the kids around you. And yes, it's free with Kindle Unlimited subscription. Grab it from below links:
                    Kindle Edition                                       Paperback Edition