I blogged at the very end of last year how I was ready for the steady goodness of a simple life, and I have been fortunate enough to receive it in spades lately. I've really worked on my filter and been adamant about keeping evenings, weekends and life around the house easy going and simple. Heidi discovering the world around her right now is just such a joy, so I am trying to make plenty of room for her to do that and for me to take pleasure in watching it. 
We recently downsized her toys to around five in her room, inspired by this
Dallas Moms Blog article
. She loves to stack, sort and lace beads right now, and it's so fun to be able to easily find a toy that will be a fun challenge and discovery tool for her. Even if it's just 15 minutes before we head out on a Saturday, there's more time to play because it's easy to get started and clean up.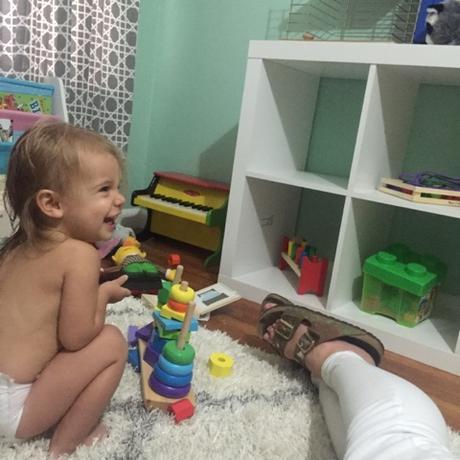 I've also been working on cooking more, finding simple ingredient recipes without a ton of prep and clean up. I'm making some big advancements and slowly working on a cooking post to share! Around the time I was getting started on this endeavor, a sorority sister of mine reached out to me about her new baking mixes, Paleo Folks. They are everything I am loving right now: simple and organic ingredients, easy to make with items already in my kitchen and just one bowl and the hand mixer to clean when done.
I used to bake a few times a week as a stress reliever and hobby, and I have to admit, it's been a LONG time since a fluffy cake has left my oven. Lately, baking has seemed more daunting than fun. After reading the limited ingredients (in the mix itself and what I needed to add - just coconut oil, honey, vanilla and eggs) and the simple prep, I was ready to try it.
A note on the paleo: I don't follow a paleo diet, but I do enjoy many "paleo" items and appreciate them being grain free, so I know they are safe from gluten. Simple and natural ingredients are always a big plus with me, so I was really looking forward to this cake as a week night treat, when I usually try to limit dairy and sugar. As for Heidi, I stock gluten free and dairy free for her at home, but don't insist on a restrictive diet for her as it hasn't presented itself as necessary at this point.
Loubies and Lulu
has a great post about restrictive dieting with her kids that I agree with.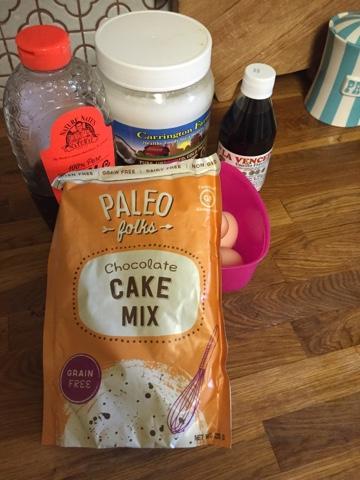 A super easy and fun night in the kitchen with Heidi, thanks to Paleo Folks!
My mom and I baked so much growing up. Knowing this cake would be simple made me really excited to try it with Heidi! She really liked standing on the stool and the quick dump, mix and bake process held her attention for exactly the right length of time. In one of my favorite (only) parenting books I've read,
Bringing Up Bebe
, the author references the French baking with small children to teach precision, patience and a healthy relationship with treats. The little project definitely captured Heidi's attention and she was eager to get involved. This was a fun memory and way to break up the week!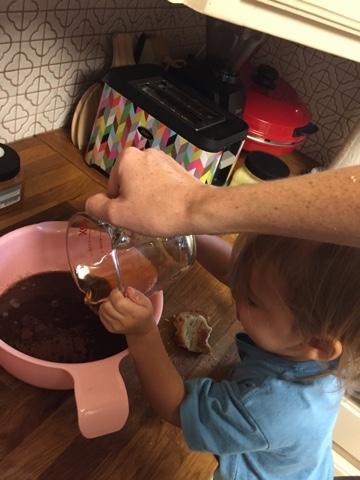 Admittedly, the best part was my little chef heading to bed before our paleo chocolate cake came out of the oven. I topped it with a little coconut yogurt and some blueberries - perfection!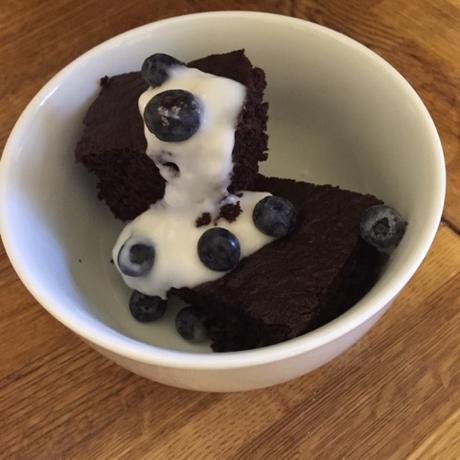 I'm learning right now with Heidi, less is more. A simple activity together at home is easier, goes more smoothly and can be more memorable than anything else. I'm so excited about this age and all of the things she can do! Next up is probably Paleo Folk's Chocolate Chip Cookie mix. :o)
It's so nice to find more and more companies each day who value wholesome ingredients. Paleo Folks is growing fast - landing on Whole Foods shelves near you and one of the many friendly faces you might see the at GFAF Dallas Expo! Don't forget to enter to win your free tickets in my former post!