All those who have experienced the ambiance within the Maulana Azad Library, walked down the University Circle Lane, given their eardrums to the lectures in various departments, enjoyed hot patties and cold drinks in the university canteen, or have done enough of hooting in the Kennedy Hall Auditorium, know what it feels to be in Aligarh Muslim University or AMU, as we call it.
The world famous educational hub has today reached far beyond expectations, with its students working at respectable designations in reputed MNCs across the globe and Government Sectors. Some of them are even too smart to have their own establishments, and they are doing well enough in their respective fields. All these ambitions, aspirations, and achievements have been made possible only because of one dignitary, SIR SYED AHMAD KHAN.
The AMU, along with all its alumni community located worldwide are celebrating the much revered Sir Syed Day today to commemorated his 197th birth anniversary this year (17 October 1817 – 27 March 1898). The noble leader, perhaps an institute in himself, envisioned a bright future for India and its citizens. His pain for the miserable plight of his country and community finally healed out in the form of Muhammadan Anglo-Oriental College on 24 May 1875, which later transformed into AMU. He was a great admirer of Urdu and even promoted the language and as the lingua franca of all Indian Muslims and through his own writings.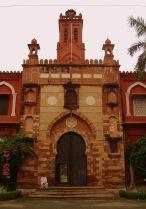 Sir Syed's vision got new wings on his visit to Britain. During his stay in England, he opined, "I wish that youth of India should follow the example of young men and women of England who are religiously engaged in the hard work of industrial development of their country". He found the way they imparted education to the students, very inspiring.
Realizing the benefits of Western-style education for the society, he decided to come up with an identical form of learning, right in his own country. Despite strong oppositions from people from his own community as well as others, he was adamant at improving the education system in India, which ultimately paid off in the form of AMU.
It is due to the commendable efforts of this towering personality that many generations have gained an outstanding form of education. Moreover, the forthcoming generations will continue to flourish under the supervision of people from yester generations. And this entire cycle will continue till eternity.
In the current scenario, we badly need many more Sir Syeds to infuse the feeling of love, piety, and brotherhood among each other . We all may be too successful in terms of our earnings, we might be running big establishments, have lavish houses, our kids might be studying in world's renowned educational centers. However, amid all this, it is equally important to let other realize their dreams and aspirations as well. The need is therefore to carry forward the vision of our beloved AMU founder, and be the torchbearer of humanity, equality, and quality education.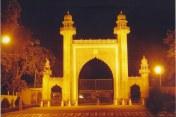 To conclude, let's remember these famous words from Sir Syed that he said on Hindu Muslim brotherhood:
We (Hindus and Muslims) eat the same crop, drink water from the same rivers and breathe the same air. As a matter of fact Hindus and Muslims are the two eyes of the beautiful bride that is Hindustan. Weakness of any one of them will spoil the beauty of the bride (dulhan)