I was lucky enough to have been born on the luckiest day of the year,
St. Patrick's Day
. When I was a kid I thought all of the festivities, green beer, and parades were all for me. I felt very special .
I have held on to that feeling of celebration and I always make a big deal out of my birthday. Not in that obnoxious, get me gifts, kind of way. But in the, Yay! I'm so happy to be blessed with another year of Chasing Joy and I want to celebrate with everyone, kind of way.
As I have gotten older a lot of my friends either don't acknowledge or play down their birthdays. (Stay tuned for my upcoming April Girlfriendology post to find out what I think about that) For a while I used to worry that maybe my friends did not like that I make a big deal out of my birthday. Maybe they found it annoying that I always want to do something fun to acknowledge the day and that I always ask people to join me.
But then I decided oh well, anyone who feels that way does not have to come. I do not ask for or expect gifts. I only ask for people to come and enjoy themselves. I am giving people an excuse to go out and have fun. Why should I be worried that people will not appreciate me asking them to have fun???? I shouldn't.
So this year like all the other years, I invited a bunch of friends to go out for my birthday. To my present surprise the majority of people were able to attend. We headed out to a restaurant bar and had a great time. There were about 15 of us not to mention everyone else in the place getting there Green on for St. Patrick's day. We ate, drank, and were Merry.
I am really happy with how my birthday turned out. I didn't even cry (see
It's my Birthday And I Can Cry if I Want to
). I really appreciate all of your birthday shout outs on that blog post, on Facebook and on Twitter. Also Big Thanks to all who came out to celebrate with me.
Here are some of the pictures from that night.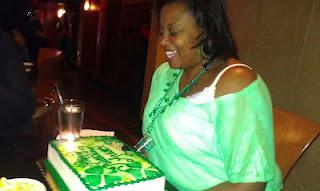 About to blow out my candles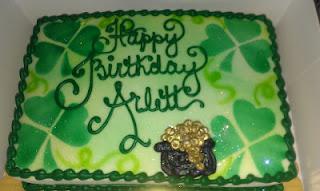 My yummy cake from Bredenbecks Bakery!!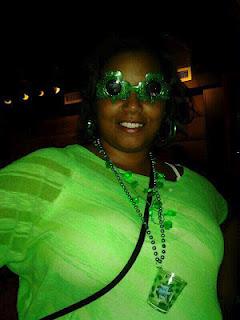 In the holiday spirit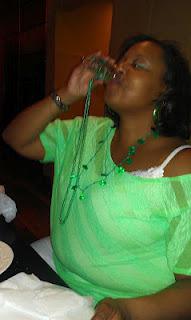 Drinking the holiday spirits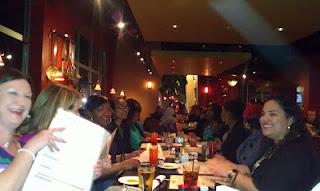 My lovely friends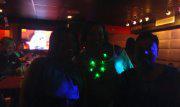 Glowing in the dark :-)
Tell me how did you spend your last Birthday?