Hello, sembreak! Okay, no. I still have an exam on the 21st so that's when my semestral break officially starts. But that's only one left so I'm celebrating this early!
After a frustrating test earlier today, I went to a salon to have myself fixed and passed by Booksale. Booksale is one of my favorite destinations in malls. I could spend an entire day just sitting in one of its corners with a book in my hands. But that wouldn't be allowed, would it? So yes, I rummaged through their stocks and found these treasures!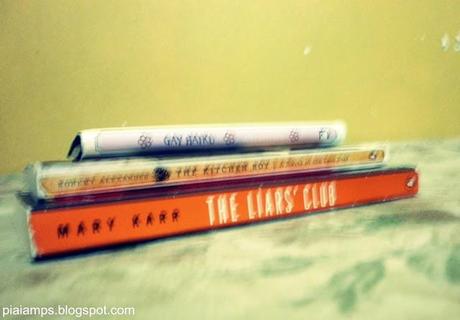 Top to bottom: Gay Haiku, The Kitchen Boy, The Liar's Club
In my theoretically hectic life, I try to read non-legal books as much as possible. It was only recently when I've decided to actually own books. I don't have a huge collection but I've already begun keeping some. I don't like joining in the hype, which also shows in my choices of books. I don't go for recent bestsellers. In fact, I have never bought brand new non-legal ones! Yes, I'm a cheapskate but I have my reasons.
I don't believe in spending a lot for a good read. A good book does not have to be expensive. I understand that these bargain books were once costly. But hey, good things come to those who wait.
I also am not particular with authors. I admire some and try to find favorites but that's just it. I don't want to lock myself in one or two authors. I don't want to have biases. I read the summary and when I find it interesting, I buy it.
I am a sucker for good cover layouts. Nice artworks make a huge impression for me, like the The Kitchen Boy. Most of the time I only pick a book because of its physical appearance, wholly disregarding the author and summary of the material. So I guess that means I judge a book by its cover haha.
It also helps if it's a bestseller. I check on the praises and reviews to ascertain where my small money goes. As much as possible, I want to read National Bestsellers or those that are recipients of formidable awards. It kind of makes me wonder why they were considered as such.
K, I think I went all defensive right there haha. I'm just sharing. And I now have 5 pending books to read including the bottom two in the photo (Gay Haiku is a
surprise
birthday present for a friend). I plan to finish all of them this 2-week break though I am 90% sure that I won't be able to. So yes, still reading on a school break.
x