Reports of the fire that broke out in the Indian Parliament premises being under control are coming in at this moment. Phew! Thank God no politicians were hurt! It must be the good deeds that they've been doing for so many years that saved them.
The fire department says that the fire started during the routine maintenance check of the air conditioning unit. But an unconfirmed inside source claims otherwise.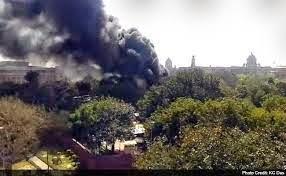 Image Courtesy: Google Images.
The source claims that the afternoon session of Parliament got so many tempers heated that it caused the air conditioning system to flame out and set fire to its main unit. Even the sprinkler system couldn't manage to put out the flames because water going to its pipes had been diverted and sold off by a company allegedly owned by a man named by the source only as the 'son-in-law'.
Military experts have claimed that this incident was a terrorist plan by the ISI who tried to spread poison gas in parliament through the air conditioning system…
[This is my article for the Faking News website. You can and probably should read the entire article here:

Revealed: Why did fire break out in the Parliament premises

]