Wow, one more award! The lovely Jayme at RAWR Creatures gave me the Sunshine Award. Thank you very much!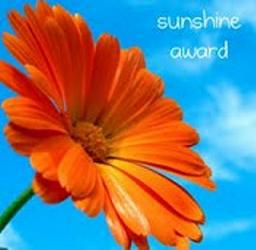 Here are the questions and my answers:
1) Favorite color: I like all colors, bold colors, pastels, contrasting colors, etc.
2) Favorite animal: Dog
3) Favorite number: 12
4) Favorite non-alcoholic drink: Spiced chai tea with vanilla soy milk.. deeelightful!
5) Facebook or Twitter: Twitter
6) My passion: Art and helping others.. so making a difference through my art makes me feel warm and fuzzy
7) Getting or giving presents: I like handmade gifts and appreciate gifts, but I'd rather give.
8) Favorite pattern: I like plaid and gingham prints.
9) Favorite day of the week: Friday
10) Favorite flower: Sunflowers or roses
Now I am supposed to pass it on and I think I'll have to sit out on this part. You know I love you all...