Russia's constant transgression into the Scandinavian nations' sovereign territory has forced the Swedes to come up with a unique plan to shock and terrify the intrusive submariners into reversing their turbines and heading straight for the nearest Red naval base.
Bringing together a matter of national security and an important social issue to the same platform to address the Russian threat, Sweden has decided to lower a neon sign into the area where a Russian submarine was recently spotted.
This large underwater billboard advertises this: "Welcome to Sweden. Gay since 1944."
The sign also sends out a message in Morse code to the effect, "This way if you are gay."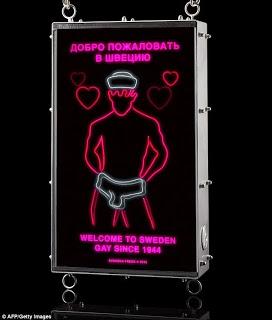 Image Courtesy: dailymail.co.uk
This innovative method of intimidation of Russian forces by the Swedish Peace and Arbitration Society (SPAS), while hilarious and probably terrifying at the same time, is also a commentary on homophobia and on growing concerns of a massive security threat by nations that are not aligned with NATO (North Atlantic Treaty Organization).
According to the

Independent

, there have been around 39 incidents of the Russian armed forces entering other nations, intercepting cargo and passenger transports, abducting foreign citizens, flying dangerously close to NATO reconnaissance aircraft, circling naval vessels and positioning ships at the edge of other nations' boundaries.
And despite this serious escalation of military activity, this organization has managed to put a farcical spin on things to turn the situation into a hilarious riot that, if implemented, will probably end up embarrassing Russia and its leader Putin, to no end.
It is however very saddening to see how homosexuality can still be used as a 'weapon of shame' in this day and age. Living in a nation that is against homosexuality to the point of making it a cognizable offense in the eyes of the law, it is easy to see how uncomfortable the very mention of the 'taboo' topic makes people. India even supported

Russia's anti-gay rights bill at the United Nations

so the only difference between the two is that India hasn't invaded anyone as yet.