I'm rapidly coming to the conclusion that the last time I listened to music was in the '90's!
But with my aim to live life in the nature of spontaneity and caprice, when a friend asked whether I'd like tickets for The Red Hot Chili Peppers I was all over it like a rash.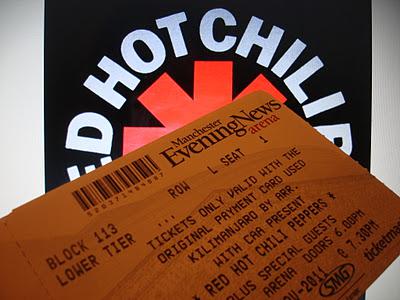 I was all over it like a rash.
I'd listened to them many moons ago. Damn it, I had two of their tapes which I muled over to Oz when I went backpacking in '94 – sunbathing in my bikini and Doc Martins on a barrier reef island, 'Blood Sugar Sex Magik' blaring on my cheap Boots imitation Walkman. Ahh those were the days!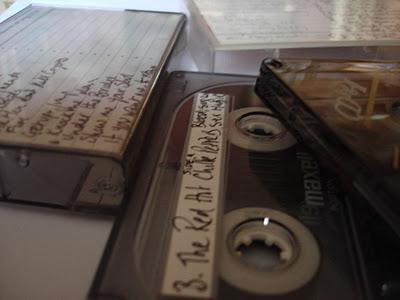 All bought from a shop - honest.
I know I am one lucky chicky and that the mere thought of a Chili Peppers concert will have many of you salivating over your ipads. They are such a massive band - I could never hope to rival a gig review from a Chili Peppers aficionado who could reel off the set list and comment on every nuance – including the impact of new guitarist Josh Klinghoffer on the bands 'magic'. 
I stole that last bit from someone else's review to impress you – sorry.
Instead, what I can do is share with you my evening, from someone who loved their music 17 years ago and last night reconnected – from the lower tier of the Manchester Evening News (MEN) Arena, Block 113, Row L Seat 1.
The evening didn't get off to a particularly good start – I had a cold at The Red Hot Chili Peppers. The whole concept was a thermoregulatory nightmare. In the spirit of the evening we went to Wagamama beforehand where I ordered a chicken chilli ramen, which was lovely until I actually ate one of the red hot chilli peppers which packed a bigger punch than expected. This bought on a coughing fit which resulted in me snorting tiger beer down my nostrils and all over a family from Sheffield who were having a quick bite before attending a concert at Manchester Cathedral! It was impressive – but embarrassing.
I'd been experimenting with drugs, so when security searched our bags as we entered the MEN Arena I decided to 'fess up. "Blackcurrant Halls Mentholyptus, Honey and Lemon Lockets and a packet of hanky's". Apparently they weren't on his banned substance list, so we were waved through.
The MEN Arena is the largest indoor arena in Europe with a capacity of 21,000. I'd say it was full.
We took our seats in the gap between the support and main act and waited in anticipation. The standing area below us was packed.
Suddenly the lights were cut, there was a momentary hush followed by a swell of excitement. The atmosphere was at fever pitch – and then there they were. The Red Hot Chili Peppers were on the stage. 
There was a discordant thunder of noise as they launched into 'Monarchy of the Rose', the stage dramatically illuminating with bright orange light at exactly the right moment, lighting up the massive audience. My lust for Lockets was immediately forgotten, squealing with over excitement as a montage of massive video screens flashed into action behind the band. 
We were all up and dancing – I'd forgotten I could dance like that!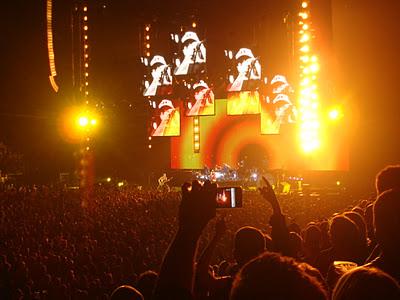 Red Hot.
I've no idea what the set list was, but I've found this on t'interweb. It looks the ticket, though they played them in a slightly different order.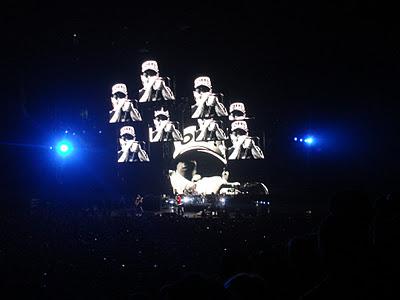 Amazing lights and sound.
Tris is currently sporting a rather fine moustache which he is growing for Movember. Last night we were in the presence of an equally fine tash. I've just done a bit of research and it seems that lead singer, Anthony Kiedis' is simply a lover of facial growth (see the Facebook Group 'Anthony Kiedis, the moustache has to go'). Tris' Mo was like a tribute tash, which I say 'top trumps' any band t-shirt or tour hoody (£60!).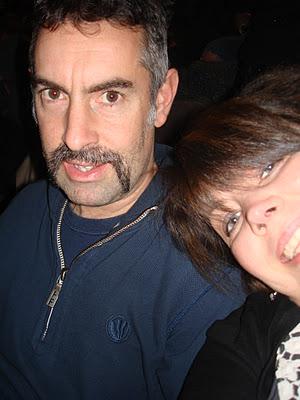 Hmmm - I never quite manage to get myself in the picture.
To summarise last night, when The Chili Peppers were good, they absolutely rocked. I'd forgotten how much I loved their mix of screaming rock and 'get down and dirty' funk. For a moment, I was that person waving my arms around and grooving on down – the one that I usually point and laugh at, at other gigs. The shirts were off, the tattoo's were out and there was lots of energetic leaping like a prize fighter warming up before a big fight (the band – not me).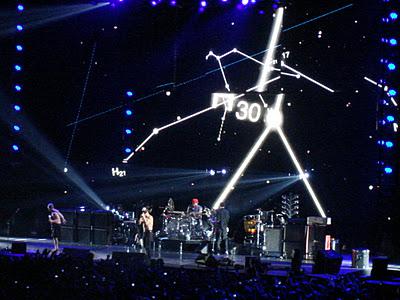 Tris is thinking of adopting a similar style for his lectures.
My only criticism would be that from where I was standing, it didn't feel like they quite managed to sustain the level of energy throughout the concert. Although on stage, it was high energy all the way – they were clearly having a brilliant party. In the crowd, the excitement seemed to ebb and flow – partly because they didn't build much of a rapport with the audience. There was something about the bass player showing us his testicles, but the sound wasn't great so we couldn't really hear it. I'm sure if you were moshing at the front being sprayed with flying pint glasses full of urine, you'd disagree with me wildly.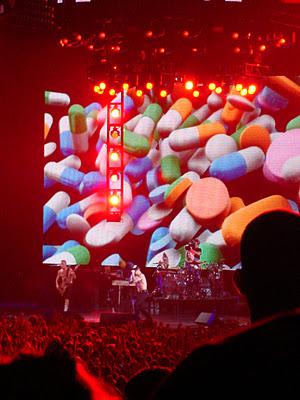 I had a similar level of medication in my handbag.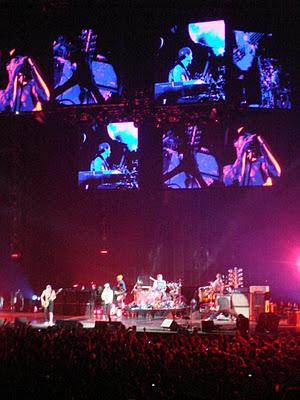 Everybody needs a montage!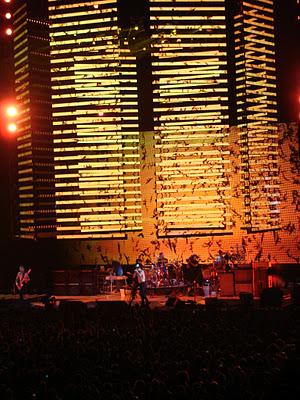 Thinking of getting similar blinds for our front room.
Some more clips (I think these are right - I'm sure you'll correct me if I've got them wrong):
By the Way.
Can't Stop.
The adventures of Raindance Maggie.
Under the Bridge (sorry for the singing - I knew most of the words).
Give it Away.
Like a menu for an Indian takeaway, I've decided to rate last nights concert - in chillies. It seems appropriate. I give it 1 red hot chilli and 3 green ones!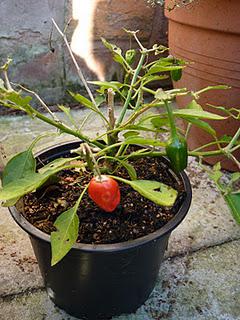 From the garden center.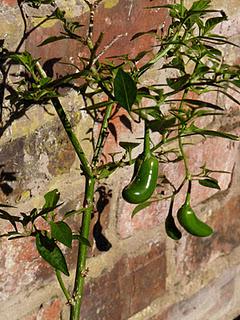 Grown from seed (very proud).
And I leave you with those most wonderful of lyrics:
Under the Bridge – The Red Hot Chili Peppers.
Sometimes I feel
Like I don't have a partner
Sometimes I feel
Like my only friend
Is the city I live in
The city of Angels
Lonely as I am
Together we cry
I drive on her streets
'Cause she's my companion
I walk through her hills
'Cause she knows who I am
She sees my good deeds and
She kisses me windy and
I never worry
Now that is a lie
I don't ever wanna feel
Like I did that day
Take me to the place I love
Take me all the way
I don't ever want to feel
Like I did that day
Take me to the place I love
Take me all that way (yeah yeah yeah)
It's hard to believe
That there's nobody out there
It's hard to believe
That I'm all alone
At least I have her love
The city she loves me
Lonely as I am
Together we cry
I don't ever wanna feel
Like I did that day
Take me to the place I love
Take me all the way
I don't ever want to feel
Like I did that day
Take me to the place I love
Take me all the way (yeah yeah yeah)
Ooh no (no no yeah yeah)
Love me I say yeah yeah
Under the bridge downtown
Is where I drew some blood
Under the bridge "
I could not get enough
Under the bridge "
Forgot about my love
Under the bridge "
I gave my life away (yeah yeah yeah)
Ooh no (no no yeah yeah)
Here I stay yeah yeah
Here I stay...