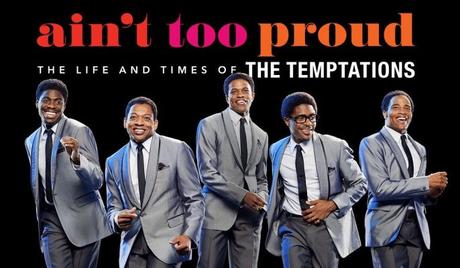 It's one week until the 2019 Tony Awards, and this year we're counting down with a look at all of this year's nominated musicals. First up is a show that offers a seemingly infinite jukebox of Motown hits from one of the most successful groups of all time.
"Ain't Too Proud - The Life and Times of the Temptations" has a herculean task-condensing decades worth of stories, all the successes, failures, and everything in between into a few hours. It's not possible, but this toe-tapping show sure tries its hardest and mostly succeeds.
For those of you who aren't familiar with the Temptations - What rock have you been living under? To those who aren't familiar with the Temptations story, prepare to have your minds blown. The show is a nonstop parade of hits, both by the Temptations and the groups whose paths they crossed, the likes of which included Diana Ross. Basically, there's no shortage of songs you've heard before.
Where the show falls short is when it tries to fit into a cookie cutter mold. With a narrator (played wonderfully by Derrick Baskin as Otis Williams) who steps out of the action to break the fourth wall, it is very reminiscent of "Jersey Boys." While there are worse templates to follow, it feels a little shoehorned at times and downright disrespectful to the very different cultural experience of the Temptations.
Where the show absolutely gets it 100 percent right is with its five original Temptations. They each bring something unique to the party and blend together to create a musical experience you will never forget.
Ephraim Sykes as frontman David Ruffin is indescribable, but I'm going to give it a shot anyways. He has an energy and charisma that truly captivates, and some microphone skills that will have your jaw on the floor. To put it another way, and because this was where my head was at when I saw the show, he could totally kill the Night King.
For those who are fans of Motown, it's a show you don't want to miss. For those who aren't familiar with Motown, it's a show that could teach you a thing or two. For those who just want to sit back, relax and let some amazing music wash over you, well this is the show for you too.
...just for fun: