With heavy steps, clad in chequered shorts he proceeded towards the ring. The very ring where he grew up,the ring that gave him a new "life",the ring which kidnapped him out of the clutches of poverty and drugs for good.Ted Patterson was a heavyweight boxing champion.He had almost died in his childhood owing to his addiction to drugs and having witnessed his sister being butchered at the hands of a rapist.But his father,a great man as Ted says,gave him a new life by introducing him to the world of boxing.At first,his anger got the better of him and inspite of  much training and muscles,he lost every fight.Then again this great person ( aka his dad) told him the very words which made a champion out of that wretched soul :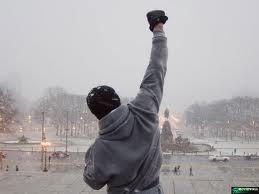 "Teddy,my son being the strongest doesn't guarantee you a win..Life has its own way of doing stuff..Breathe,my child,breathe!!..Don't hit because you are angry cause then you will slowly disintegrate
inside..Hit because you need to survive,because you need to live,because you want to live for the next battle..Always remember my son that an angry mind is a narrow mind."
These words motivated him to an extent that after that he never lost a single fight..But that awful day,the day his dad died changed everything and the world witnessed the downfall of a champion who couldn't even last till the third round..It was pathetic to say the least!!..He was decided that he would announce his retirement after his loss at this final duel..Yes! He was already thinking of losing before the fight had begun.
His opponent,Mark was the talk of the times. Ladies would go crazy at the sight of his muscles and his trainer took pride in honking : "Meet the superhuman!" at every press meeting.Mark had a strict training schedule – he ate,slept and trained. This was what he had been doing since he was 13 years old.
That fateful day arrived. Ted and Mark entered the ring accompanied by shouts,praises and taunts. Everyone made it a point to make himself/herself heard by shouting their larynxes out. The referee goaded in, recited the mundane rules to which neither the gentlemen paid attention as fiery pairs of eyes stared at each other in an attempt to burn each other out.
1stround:-
Mark started the bout with a flurry of punches and an unresponsive Ted had no answer to the agility and pace of the "Superhuman". Left-hooks, right jabs and three combination punches started taking the gas out of Ted as he threw punches in the air like an amateur,missing at each instant. People booed and hooted. None,not even Ted would recognize the fighter he had become. Stooping shoulders, heavy breaths and an aura of insecurity blanketed his very presence. He begin to wish
that a K.O would end this hell. The bell ringing proved to be a respite as he retired to his corner. Mark roared: "Yeah! Yeah Ted! You are nothing! Go back home,you punk!!"..The crowd affirmed his statement with an array of abuses.
2nd round:-
The 2nd round brought out a better Ted to the war front,probably due to the inspiring words of his coach. But it was like a short spell of rain. Soon Mark was almost piercing him to the corner as his overgrown hands changed the architecture of Ted's already battered face. Ted was being outboxed into retirement and it was pitiful. Punch after punch left him gasping from breaths, a gash spewed blood as drop by drop a man started disintegrating. Then a mighty left hook left him on the ring,flat. The referee,bulleted to his side from the far corner and screamed : "One,two,three,four………". He was still in that tattered frame, but he decided to give up. Just then the almost closed eyelids provided a translucent frame of his father standing and smiling at him. "Eight,nine…"..Just before the tenth count he had got up. Bewildered,he looked on as Mark galloped to his corner to end the bout and the match. "Tring, Tring, Tring"-The bell saved him again.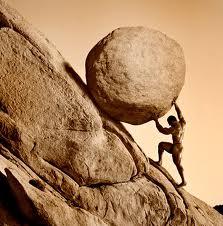 3rd round:-
The 3rd round saw a smiling Ted bringing his withered frame to the center. His father's frame still stood at the corner, reminding him of the words he had said in his deathbed :
 "Always fight to survive. Never give up. It doesn't matter if you lose but make it a point that after that when you look yourself in the mirror, you can tell yourself that there wasn't even 1% more of you that you could have put in that fight! Give it all you have. Remember you are fighting with yourself,the dark you!! Whether you think you will win or lose,you are right!!"
What followed was something beyond the contemplation of the crowd. Ted almost floated like a butterfly in the ring as his volley of punches to the body and head of Mark stung him like a bee. He was reinvigorated, afresh and full of energy and didn't allow one punch to be landed on him. The crowd watched on , stupefied by the sudden change. It was as if he was fighting for his life. He punched and punched and punched till he could punch no more. And with a final jab to the face Mark fell down,unconscious- a K.O.
The crowd erupted with claps and the ring got filled with admirers as he stooped onto his knees and started crying. He had won the Battle of Life and was missing his dad at the same time. He took the championship belt , handed it over to Mark and told him to keep it cause he deserved it more. Walking down the ring, he resumed his crying, and went back home a lighter man.