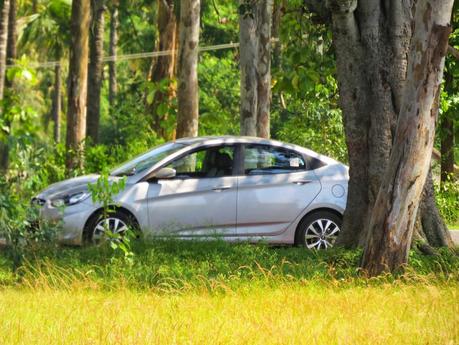 Hi Guys, I know its been a long time that we have conversed, Its not because I had less to say to you all but because I found it hard to say all those many things I wanted to say. For sometime now, the magic of words had deserted me. I don't know whether they have come back or not, but I do have something to share and I have decided to share them nevertheless.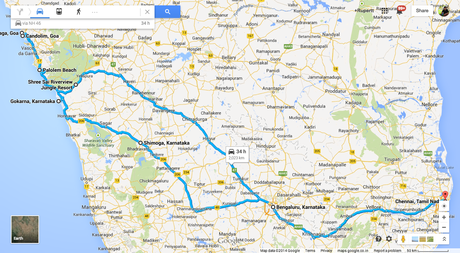 Just last week, A few very special friends from college and I successfully completed a road trip to Goa and that's something worth sharing. Isn't it?
Day 1: October 1, 2014
Journey: Chennai to Bangalore
Pit Stops:
Rajiv Gandhi Memorial

The Golden Temple at Thirumalaikodi, Vellore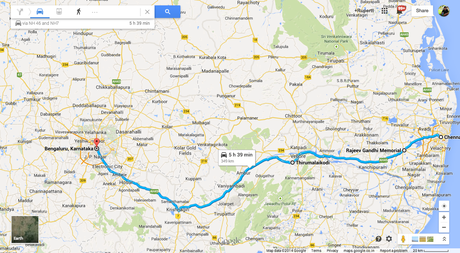 I have been waiting for this day to come for a very long time and yet I was not fully prepared for the day. The morning of the journey I couldn't find anything. My camera battery was missing, then my mobile phone was missing and then the lonely planet books were missing and once I found all of them my car keys were missing. But at the end of all this I finally started off for Goa, a seven day escape from routine.
The day was nice and ride out of the city was fair, the traffic was manageable and the roads were… hmm lets just say urban. The first pit stop I took was Rajiv Gandhi Memorial near Sriperumbudur. It was a serendipitous discovery of sorts. I found the place as I was driving past I decided to stop over. After it is a place of great national and historical importance.
The Rajiv Gandhi Memorial really surprised me, it was very well kept, neat and tidy and very astutely constructed. Once I finished my half an hour break, walking around the place and taking pictures with my new Canon SX50 HS
, I wanted to buy a DSLR and then I thought who am I kidding. Finally I settled for the camera that has an insane optical zoom. Thats quite a nice camera, she helped me capture some of the finest moments of this trip.
Tools for the Trip
The drive from there to Vellore was quite easy, The three line express way from Arcot to Vellore was impeccable and I could easily cruise at 100 in my car (Hyundai Verna).
The next stop for the day was at the Golden Temple at Thirumalaikodi in Vellore. I was surprised to find myself in a middle of a totally commercial temple complex, every inch plated with gold. I will be quite frank about this, the place disgusts me and I will say no more for I don't want to ruin the mood of the narration.
From the Golden Temple I headed to Bangalore or Bengaluru for some. The road till Hosur was just as exquisite as it was from Arcot to Vellore. But once I touched Hosur it was a different story, the whole and part of the road was dug up asp art of construction and the traffic was slow moving most of the time. After much effort I escaped Hosur only to be caught in the nightmarish traffic in Bangalore. Somehow I reached my friends home and that's the end of Day 1.