My daughter is the most special little girl.  She is beautiful inside and out.  I have known this from the moment I laid eyes on her, but every once in while there will be a key moment that makes me understand this on a deeper level.  Yesterday, her beauty was at its most radiant, and I am beyond proud.
For two years, my daughter has been growing out her hair.  Her long hair was gorgeous – thick and wavy.  She had always talked about donating her hair when she eventually would cut it, but I was beginning to wonder if it was ever really going to happen.
Yesterday, as we were headed to the hair dresser, she suddenly had the desire for this beauty salon visit to be THE day.  And so….here it is in pictures, blog readers.  The end of my daughter's hair journey, and the moment when kindness became a selfless act.
My daughter and I have a wonderful hair dresser.  Courtney Cimino owns her own boutique salon called Bold Boutique.  It is in a Sola Salon complex, and it is a tiny little haven to go to when you need hair perfection.  When we announced to her that we needed to cut 8 inches off, she was excited and happy to do the job.
Here is the before picture.  So long hair!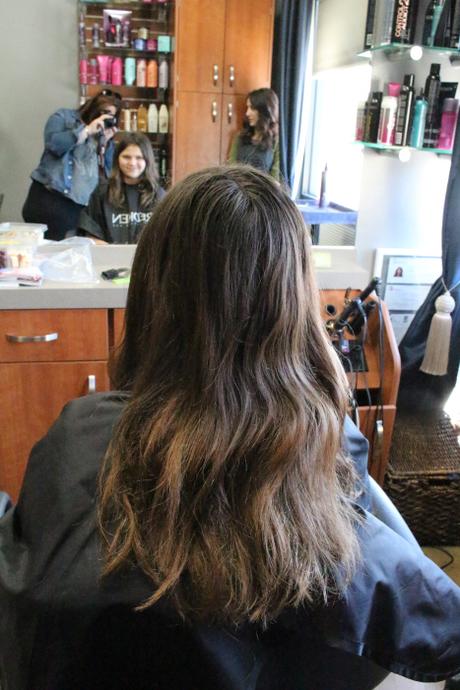 The snip…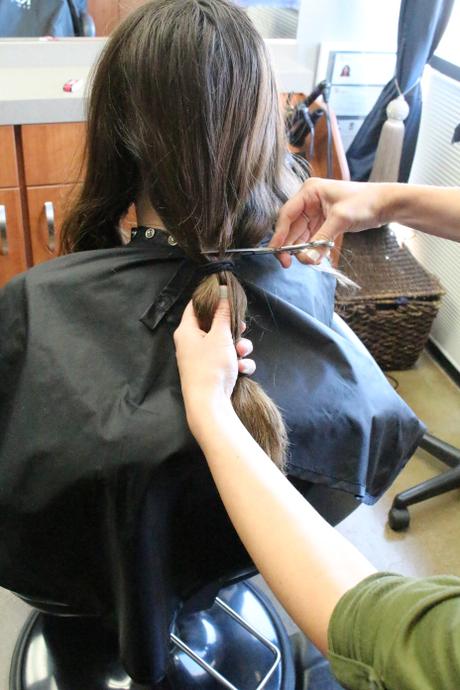 Ponytail gone!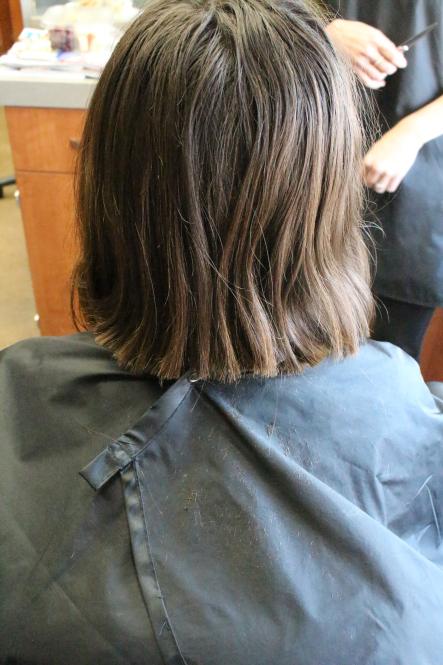 Admiring the new look…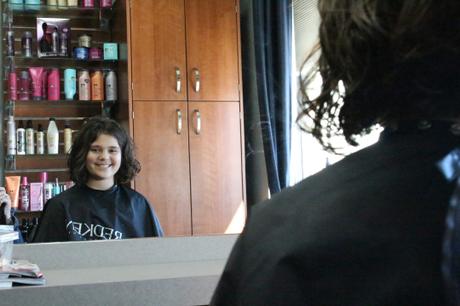 Thank you Courtney!  You're an awesome hairdresser, and we are so glad that we got to share this moment with you.  You made it special, and my daughter looks even more gorgeous than she already was.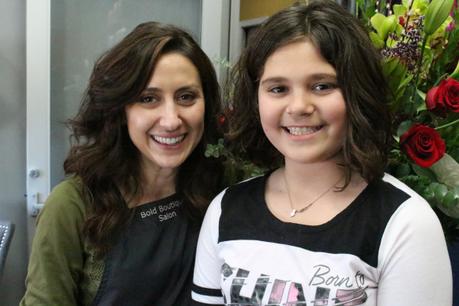 The 8 inch ponytail is being sent off to Pantene Beautiful Lengths where they, in turn, will turn it into a wig for a cancer patient.  It takes 8 ponytails to make one wig, and Pantene has donated 42,000 wigs to the American Cancer Society's wig bank to date.  Many organizations that take hair donations require a 10-12 inch ponytail, but Pantene accepts 8 inch ponytails which makes it a little easier to donate.  (CLICK HERE to read their hair donation requirements.)
I couldn't be more proud that my 11-year-old daughter decided on her own that she wanted to do this extreme act of kindness.  It came from her heart and required commitment and bravery.  She is amazing, and I am one lucky Mama.
That is why my song of the day is "The Luckiest" by Ben Folds Five, because lucky doesn't even begin to describe the pride I have for her.  She is a blessing in every kind of way.