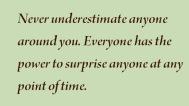 This dates back to my academic days, some 7 years ago. The incident happened in front of me, though owing to considerable lapse of time, now I remember only parts of it. Anyways, whatever it was, am trying to compile it here. Most of the words are their own and some I have written myself, yet making utmost attempt to keep the originality intact. Hope you get the intended message.
I was on a shared auto on my way from college (in the outskirts) to the city area. There were two of my college mates from a different course to accompany me. And apart from the three of us, sat this gentleman, who looked not so old but definitely old-fashioned, probably in his late 50's. After covering few miles, the eldest of us started the conversation, which was later joined by the other two . I preferred to don the role of a silent spectator throughout their dialogues.
The old man: Aap log IMS mein parhte hain (Do you guys study in IMS)?
First student: Haan (Yes).
The old man: Waha to fees baht zyaada hoti hai. (They charge too much amount as tuition fee).
Second student: Kuch khaas nahi, kareeb 1 lakh saal bhar ka (Not much, around 1 lakh annually).
First student: Par hamare liye koi badi baat nahi hai, hamare baap ke paas baht hai. (But it's not that big deal for us, our fathers have plenty of money).
Baap is the Hindi translation of father, but is also often used as a slang term.
Both the students gave a sheepish smile to each other, as if they are the worst ever spoilt brats existing in the world till date. The old man maintained silence as if feeling somewhat out of place. But after a little pause, he restarted the conversation.
The old man: Aap log kaun si parhai karti hain (Which course do you guys study?)
Though I hardly knew them but since they were of my college, so I had a rough idea that they were B.Tech or B.Sc students. They too answered the same, but in a manner that could well be deemed as insulting to almost anyone.
First student: Hum log science parhte hain (We study science).
He didn't mention the exact stream.
The old man: Wo to theek hai par kis course mein hain? (That's alright, but in which course).
He exactly wanted to ask the stream in which they studied, like B.Tech, B.Sc. MCA, etc.
Second student (Who buy now got irritated by the old man): Taaau, tumhaare samajh mein nahi aayega.  Bus itna samajh lo ki science parhte hain. (You won't understand that uncle, we study science and that is enough for you to know).
Taau is again often used as a slang term in Hindi, though in real, it refers to the elder brother of one's father
It seemed as if that statement from one of those students was the height of nuisance, which was enough to infuriate the old man. Now he parted ways with his native language and to the surprise of all of us, started speaking in English.
The old man: Okay, you are the students of science. So could you please tell me, what is the definition of science?
That statement in a decent English fluency left me stunned and those guys, clueless. They got dumb fold.
The old man: Come on! Tell me. What is the definition of science?
The two guys still remained numb and under grave shock.
The old man (again): This is the problem with you people from the new generation. You are nothing but spoiled brats, wasting the money of your parents, full of attitude and have no respect for elders. Is this what you have been taught, Ham science parthe hain (We study science). Badtameezi ki bhi had hoti hai (There is a limit to disrespect).
I came here to submit the fees of my son who has taken admission in your college in B.Tech computer science. I asked about your streams to know if you are also from the same course, so that I could request you to be friends with my son. He is new to this place. But arrogant people like you can never be friends with anyone.
Both the students preferred to maintain pin drop silence as if someone has stolen their kidneys and they couldn't wait mourning about it.
The old man: You thought me to be a poor old illiterate man, how come he would know about technical terms. I admit that am not that well educated but have enough of knowledge and know a little bit to communicate in English as well.
I know, most of the people of your generation don't care to take advises from their elders. But still, I would like to say, "Never underestimate anyone".
Amid all these heated conversation, finally we arrived at the destination and stepped down to go to our respective routes. But that one liner advice got a permanent space in my mind, and is there even now. (Though it was intended for the other two passengers).  Indeed, Never Underestimate Anyone.