Tales of organized religions running after money and trying to spread their faith all around either by force or through bribes are mire in the history of not only this nation, but the world. But these are just tales and conspiracies which may or may not be rooted in fact. What happens however, when such stories of a real incident come to light?
I know of one such incident and although I refuse to admit if this is fiction or fact, it makes it very clear that the voices reciting the vow of poverty are often lost in the need for materialistic luxuries of life.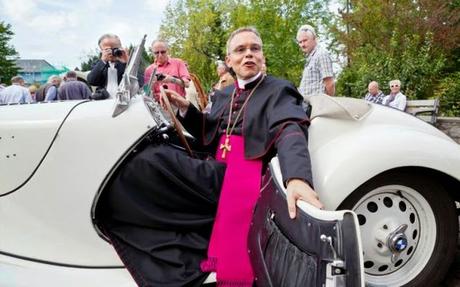 Featured here: The Bishop of Bling, Germany.
Image Courtesy: Google Images.
Once there was a priest who, after many years, finally made it as the preacher of a large congregation. The place of worship was large and the number of devotees was also higher in comparison to other places where he'd been assigned before. This city he went to had a reputation of not being able to tolerate nonsense from their preachers and this priest, in his pride, managed to get on the wrong side of the entire council. It was just like the previous priest; he was transferred because of his arrogance.
This priest managed to run things his way for a while but ultimately the patience of the people ran out because he never stopped making them regret the fact that they didn't contribute enough money to God and by that, he meant he wasn't happy with the amount of money that went into his upkeep after paying for the maintenance of the house of God. He kept repeating the dire situation of the accounts, all under the statue of his maker while the congregation tried its best to keep him happy. But it was not to be and the priest's senior had to have him transferred for his own well-being.
This priest was sent to a village whose faithful consisted of just a handful of people. He was appalled! How could he be sent to this place after heading a temple of a big city? It was outrageous. He probably thought that these villagers deserved a new priest without any experience while he deserved to be moving up in the hierarchy and heading another big place of worship. How dare the management leave him to rot in some godforsaken village?
And so, once again, senior had to transfer him and this time, even though he got a small town, which was technically a promotion from the village, the priest was sullen at this transfer too. Now this town had recently been upgraded, divided into two parts and another temple was built to accommodate all the faithful. This priest got the new temple and its people but he had to commute to this new temple everyday from his residence, which was still at the old place of worship. It takes time to shift quarters and it hadn't happened yet. A minor inconvenience no doubt, to travel within the same city and pry for the people. But the priest now demanded separate living quarters for himself and a servant for his needs at the new place. The management decided this was too costly an affair and refused this demand.
Within a year, the priest demanded a transfer.
Looking at his track record, it does seem plausible that this person would have fared better as an IAS officer than he did as a priest.
It only goes to show how the people who serve God are also not totally immune to the pleasures of life and it's not like they don't deserve them but there are those who work to sincerely spread love and foster goodwill among people according to what their scriptures say. These sincere people try to do good in often horrible conditions, among hostiles, in dangerous territory and under threat of prosecution and death on a regular basis. The priest in the story and those like him give everyone else a bad name and are often the reason why even the most religious of people tend to lose their faith.