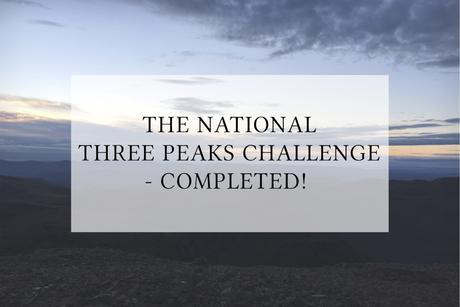 The national three peaks challenge is hiking the three highest mountains in the U.K, Ben Nevis, Scotland, Scafell Pike, England and Snowdon, Wales...in under 24 hours. Many of you reading this will have heard about what I like to call 'training/attempt one' and you can follow this link to read about it. That was 5 weeks ago. This weekend, myself, my sister and my Dad took on the challenge again, here's the story!
We set off at 6.30AM Saturday morning and started the 430 mile journey to Fort William. We set foot on Ben Nevis at 4.15PM and the nerves were running wild. My stomach was in knots and I could feel my heart fluttering with excitement. We'd already given this one shot and didn't complete it, but twice was just not an option. We absolutely smashed Ben Nevis in 4 hours 45 minutes and the adrenaline was running high. Wasting no time in between, we climbed back into the car and changed our very sweaty clothing ready for Scafell Pike. It was time for some food and as much rest as we could get.
We arrived at Scafell Pike and started the next hike at 2.30AM, and no matter what you are telling yourself, your mind just knows you are not meant to be doing this much physical activity at this time of the morning. Despite that, we just put one foot in front of the other and kept walking. As it was dark, even with a head torch it's quite difficult to find your way and it's very easy to get disoriented. Because of this, we lost our way about half way up and we're chatting to some of the other teams to check we we're on the right track. We lost at least 30 minutes doing this. I am naturally always very anxious about the time, ask anyone that knows me and I'd rather arrive 2 hours early than 5 minutes late, so I was feeling pretty shitty at this stage. We we're all starting to struggle and a lot of adrenaline was gone because we knew those 30 minutes could be a game changer. We went on to summit Scafell watching the most beautiful sunrise and it's something I shall never forget. I really could have just sat with a cup of tea and soaked in the views, but we took a quick selfie (obviously) and made our way back down, reaching the car at 6.50AM.
So this is where it really got serious. The roads we're amazingly clear and thanks to our designated driver, Vanessa, we got to Snowdon and started the climb at 11.20AM. We had pretty much exactly 5 hours to do this mountain and we'd allowed 4 in our heads whilst we'd planned the trip. By this time however, our legs we're starting to give up, we couldn't possibly face eating any more bloody pasta and my hydration pack had leaked all over our bags so I had to use a water bottle instead and carry a very soggy bag. I was soon just as soggy with sweat anyway so luckily that really didn't make a difference. Sorry for TMI. *Walking tip - if you ever think about buying a hydration pack, buy it. A water bottle meant I had to keep stopping to get it or ask someone to pass it to me...this wastes time!*
So, Snowdon was tough. I felt like we started on a high because secretly in our heads we knew we'd done it. Unless anything drastic happened like breaking an ankle, we had enough time to make it. But that's when it started getting really, really hard. We'd already hiked for 9 hours and good lord our bodies knew about it. From half way up, every step was painful. I had the most hideous pulling pain in my groin that with every step would shout at me and I knew Dad and Abbey we're feeling the same. The hardest part was that on this particular mountain, from about half way up you can see the top, which means you can literally see how far you have to walk. Let me tell you, it was very far!
We pushed through and made the summit together, so tired that we barely even realised we were on the top of a mountain, something we rarely take for granted. Then we started the descent, Abbey and I picking up the pace a little because I was still thinking that anything could happen and I just wanted see some beautiful numbers on the stop watch! We hiked past the most stunning lake and I can't explain how much I just wanted to take off my boots and soak my feet, but I guess I'll have to do that another time! We pushed through and crossed the gates with the most magical time on our stop watch....22 hours 47 minutes!! Never in my dreams did I think we could do it that fast, especially knowing the delays we had on Scafell. Vanessa had just parked the car so she was there to give us huge high fives (we were FAR too smelly for a hug) and I just stood there in disbelief knowing that we had done it.
For this challenge we raised a total of £585.00 for the RSPCA. A massive thank you to everyone who has donated, shown their support and listened to us bang on about the three peaks challenge.
THANK YOU to Vanessa who was absolutely wonderful at getting us to the next mountain on time and keeping us motivated as much as possible. And thank you to my Dad and Abbey for being the best walking partners ever, even if we do get a little grumpy when we're tired!
Here's a few of the snaps we took over the incredible weekend. I am SO pleased to say that we have finally done it, and that's another tick off the bucket list. We sweat out what felt like an entire ocean, we cried and we moaned, but most important of all we laughed, we hiked and we made incredible memories.