When they met, she gave him a wistful smile
Laden with the yesterdays spent
On the clouds of heaven filled with joy
When the happiness seemed endless.
On the rim of her eyes 
The image still sparkling clear remained
And the rustle and swish could be heard
Of her skirt, autumn-coloured.
As they waltzed together around the empty ballroom
Once a drop and then up he did lift
Slow was the music, filled was the wine glass
The music faded into the sugar touch of lips
A touch of lips she had thought would last forever,
But moments die and people change though;
Preserved memories stretch in time
Diminishing the present even more so.
The music fades, and the wine is drunk
A kiss remains nothing but
A heaviness from the past on swollen lips
This she knows, and so does he;
But they let the memory of the dance remain
The nostalgia for happiness
The swish and rustle of an autumn-coloured skirt
And the kiss they thought would never end.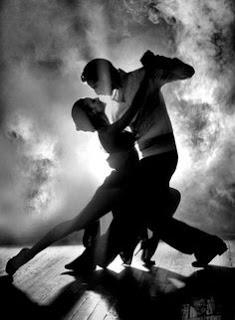 Image Source: Pinterest
Copyright Petrichor and Clouds 2015 at petrichorandclouds.blogspot.com Please do not reproduce the material published here.