This poem was written in a response to a post by What's in a name on Facebook. The idea was to write a 500 word creative work inspired by this image they provided.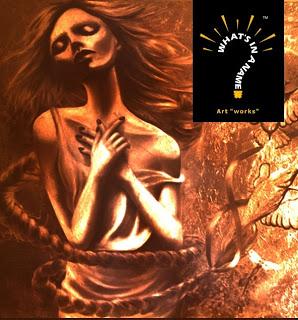 Clad in amniotic fluid of miracleMade of not the mud that shapes effigies and objectsHomogametic, she is two same kinds of X
She is bornShe who is the child, and the motherA virgin, yet no virgin either
Dancing over a strand of sunflowersShe gathers as she hovers.All its fragrance, she spreads the elixir
Branded intimately with a curseA heart so weak, she carries in herGives love, won't listen to cease her thrum
She sleeps peacefullyAs sound as she was in the wombAs she carries her own young
A life full of lifeInside and outsideShe sprouts and sprungs alive
She tosses her own hairWhilst pleating strands of her child's, with sunray flecksLike her birth strands of XX
She sings her heart's desireIn melodies never heardBuried deep within her bosom undeciphered
She calls for the soulThat brings laughter and springMakes the gauntiest man to sing
She's not made to cookAs cooks can be menYet it's only she who can satiate her children
She's not made to be hooked eitherNo, God made her a free bird.She can drive the whole world better than three-third
Reflected in the mother of beasts, she isA lioness protecting her cubsA dragonfly – she leaves her eggs in the wild hub
She finds those extra cushionsEvery time you're blueShe will be the love, the medicine, the hot bowl of stew
Her tears flow silentlyNever will she give them wordsMigrates to a distant place just like those birds
Only a few words are enoughTo drive her off the edgeWonders if she shouldn't have crossed the bridge
She braves her journeyInto a female-infanticide following worldShe finds her pathIn this male dominated worldShe procreates - These Men on Earth.
She is the GoddessThe face of Mary who birthed JesusOf Aphrodite whose beauty defeated Ares
Selene, she is ever givingLakshmi, Sarasvati, blesses you with wealth, knowledgeAnd she can be Durga, a fierce, exiling pledge
Ever playful as a babeEver forbearing as a woman to be soonAnd the crone - the darkest side of the moon.