The Day before yesterday, I went to this water park called The Mayank Blue Water Park with Akshay, Anshul, Khalid and Thakur. On this kind of summer, it was the best place to spend an afternoon. We reached there at some 4 pm, we were already too late because water parks in Indore are not operational after 7 pm.
First up, we went to the beginner's pool, which ranges from 0 to 7 feet, and being a non-swimmer the four of us except anshul, kept ourselves pretty much up to 5 feet of depth only, but it was fun diving into the water with adding another 3-4 feet to it. Life seems so light inside water. I never wanted to get out of it, it was awesome being inside the water.With your head in or out, either way, it keeps you happy.
After some 30 minutes of "toddler swimming sessions" we went to something manly, the slides, Khalid and I, the two of us was in jeans, so they didn't allow us to go in to the slides, shorts were a compulsion. 'The desperate me' went to the counter and bought a pair of shorts, for both of us, and happily climbed to the top of the slide. There were 2 slides, the red one and the yellow one, god knows why i choose to slide through the red one.
AND THEN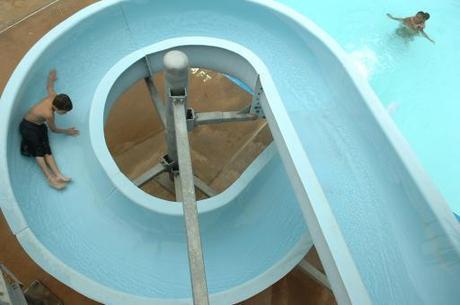 image courtesy: images.morris.com /google.com
I sat on the top and pushed myself to start sliding, just a couple of seconds and I realized I was not in a good position, I at least knew that the sensation of smashing into the water would be a little uncomfortable but it won't hurt, it took me some 12-15 seconds to reach the ground level of the slide.
I smashed into water quite comfortably and was collecting myself together when something hits me in my left ear "THUD". It actually sounded like that. IDENTICALLY. I was hurt bad and I went out of my senses for the next 50 seconds. And then another two minutes, I couldn't hear, I couldn't understand things. And then when I gathered myself again, I could feel vibrations all around my head, Sounds became less audible but clear, I could listen to distant things if spoken clearly.. huh.. what the hell.. am I a facilitated kind of deaf... I felt pain all day long and in the night too, but now its almost 48 hours since the infamous THUD sound. I have almost been like before.. but still the vibrations are there, at a lesser extent perhaps. The funny thing is I stillhave no idea what actually hit me, some prankster's slap or a kick by the one sliding behind me.!!!
-Amritt Rukhaiyaar