Howdy folks.  Just a little note to let you all know that I am taking part in the hash-tagged #TheSoProject which was set up by Stephanie.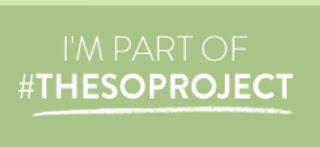 Every Tuesday at 6pm for 10 weeks 119 other bloggers and I will be posting about a different topic for that week.  Each week will be a different topic.  The following topics for each week are:


Week 1: Skincare




Week 2: Concealer




Week 3: Foundation




Week 4: Bronzer




Week 5: Blusher




Week 6: Mascara




Week 7: Eyeliner




Week 8: Eyeshadow




Week 9: Lipgloss/Lipstick




Week 10 Make up tools


I'm really excited about being part of this wonderful project, and think it's a brilliant idea!
Feel free to join the Twitter banter using #TheSoProject hash-tag, and follow me and tweet me your posts each week on Twitter as I would love to read them! 
See you for the weekly dose at 6pm for #TheSoProject !