Being in the realm of my imagination, I stumbled upon a new people who taught me how to survive.
 CT
Thinking about the Past (Part VII)
VII.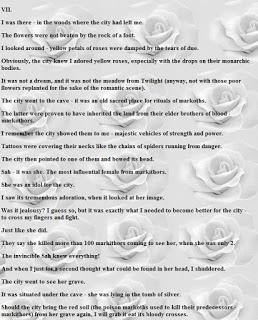 I was there - in the woods where the city had left me.
The flowers were not beaten by the rock of a foot.
I looked around - yellow petals of roses were damped by the tears of due.
Obviously, the city knew I adored yellow roses, especially with the drops on their monarchic bodies.
It was not a dream, and it was not the meadow from Twilight (anyway, not with those poor flowers replanted for the sake of the romantic scene).
The city went to the cave - it was an old sacred place for rituals of markoths.
The latter were proven to have inherited the land from their elder brothers of blood - markithors.
I remember the city showed them to me - majestic vehicles of strength and power.
Tattoos were covering their necks like the chains of spiders running from danger.
The city then pointed to one of them and bowed its head.
Sah - it was she. The most influential female from markithors.
She was an idol for the city.
I saw its tremendous adoration, when it looked at her image.
Was it jealousy? I guess so, but it was exactly what I needed to become better for the city - to cross my fingers and fight.
Just like she did.
They say she killed more than 100 markithors coming to see her, when she was only 2.
The invincible Sah knew everything!
And when I just for a second thought what could be found in her head, I shuddered.
The city went to see her grave.
It was situated under the cave - she was lying in the tomb of silver.
Should the city bring the red soil (the poison markoths used to kill their predecessors - markithors) from her grave again, I will grab it eat its bloody crosses.
Meanwhile I will fall asleep…
Yours, 
Sam