As you may or may not know I am an avid thrift shop hound. I love getting a good deal when I can. I like to think of myself as a "land pirate". My motto is one person's trash is another person's treasure!
Hey If it was worth buying the first time it must be even better the second time around! :) I seem to find some pretty good stuff lately too. Just recently We found a Trivia Pursuit 20th Century Game for only .50 plus an additional 75% discount! It was at the Animal Rescue Thrift Shop in Port Orange, Fl so I kinda felt bad and donated an extra dollar. I am an animal lover after all!
Today I did out did myself and got a big haul of clothes including a top and skirt set ,dress,and halter   top.
Plus the biggest score was this....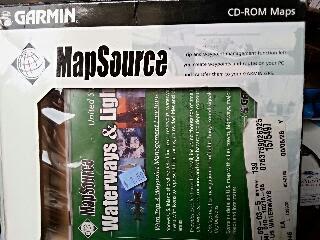 A Garmin Map Source CD-Rom for US waterways.
 It was marked $1.50 and they just so happened to be having a 75% off store wide sale! Whohoo.
I'm going to attempt to install it now and see how well it works. I'll be sure to report my findings as soon as I can!