A travel clearance is a document issued by the DSWD to a Filipino child (below 18 of age) traveling abroad alone or with someone than his/her parents.
In my case as a Solo Parent:
A minor traveling to foreign country accompanied by a her parent.
A minor traveling to a foreign country with her solo parent.
Requirements:
Duly accomplished application form
Photocopy of the birth Certificate or passport of the minor
Written statement of solo parent traveling to a foreign country with the minor.
Photocopy of passport of the solo parent.
Photocopy of solo parent Identification card from the municipal social welfare and development.
In case of illegitimate minor, a certificate of no marriage (CeNoMar) from NSO. The Parental authority is vested only to the mother of the child, per Article 176 of the Family Code of the Philippines.
Two colored passport size photo of the minor taken within the last 6 months.
Validity: 
1 year from the date of issuance and shall be valid within the validity period provided the condition under which the travel clearance was issued have not changed. 
Download form
Schedule of availability: 
Mon-Fri. 8:00am- 5:00pm
Processing Fee:  
Php 300.00 with validity of one (1) year
Php 600.00 with validity of two (2) years
Processing Time:
This is should be provided by the PMB staff who knows the process
Can a travel clearance be issued to illegitimate children who are applying for their visa in the embassy?
Illegitimate children are under the custody of the mother. if they will be traveling with the mother, they are not required to secure a travel clearance from DSWD. If they are traveling with person other than the mother, they must secure a travel clearance. But in my case, the father signed the acknowledgement in her birth certificate so I was advised to get one rather.
Where to file application:
(I am advised to go NCR)
DSWD- National Capital Region389 San Rafael Street, corner Legarda St., Sampaloc ManilaTel/Fax: (02) 313-1435 loc 210, 733-0010 to 14/ 488-3104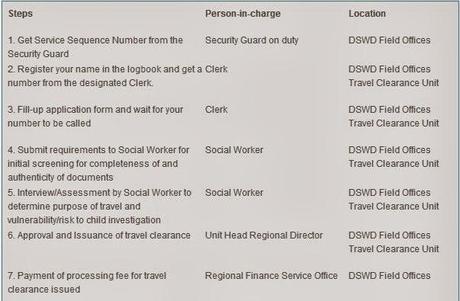 Resources: Department of Social Welfare and Development