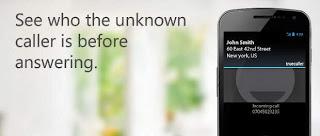 Getting unknown calls is so annoying. It irks us a lot. It's

a

situation which is faced by many of us.  I always wonder how strangers get my number. It's pretty weird for me, when I haven't shared

my

number with an unknown one.From few months I was getting calls from an unknown number

he

always asked about Mishra

ji

, I told him it's not Mishra

ji's

number. Well I never

saved

his number so whenever he called I never recognize that it's the same

number

but after receiving when he

ask

about Mishra

ji

, I feel damn why I receive

this

call.
I was finding a way to

get

rid from this situation and recently I installed an app called

Truecaller

.


Truecaller

is a well known world's largest phone directory.  You can find and search people from it and

the

best use of it that it tracks unknown numbers. It will give you

complete

detail

of the unknown number.  
Well after installing it, again I got a call from that

number

and I got to know that his own name is Mishra Ji

Jalpan

Grih and he is from Madhya Pradesh.
Gosh!!! Is he suffering from short-term memory

lose

.
Well if you guys are also getting such ridiculous and annoying

calls

then you should try Truecaller. You can download it from your  play store. It's available for iPhone, Android, BlackBerry, Symbian s60, Series 40, and Windows Phone.