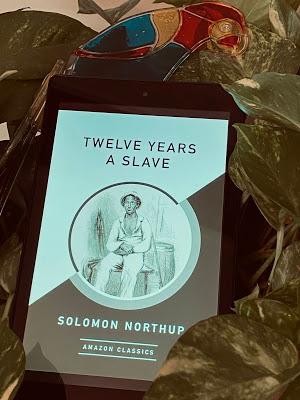 Imagine you are living your life as usual with a family to come home to and work that you look forward to. The future seems bright and suddenly one day you wake up as a slave. You try to get out of that nightmare, but the harder you try, the more the reality hits right on your face. That's exactly Solomon Northup experienced, and his misery lasted for whole big 12 years before he was finally rescued.
Based on a true story, this book is a memoir of those twelve years spent by the author. Born a free man in New York, Solomon Northup was lured to Washington, D.C., in 1841 with the promise of fast money, then drugged and beaten and sold into slavery.
While we sit in our cozy beds and curl up with a book - this book; we feel terrified and extremely sorry for the misery they must have gone through. It is that moment of truth we must realize and thank the generations before us for making us come to a world where we can raise our voice - where we do not need to prove that we are free!
The story is heart wrenching and keep the reader on its toes. The best part is that is unexaggerated - the author has very clearly stated bad ad bad and good as good. Yes, a slave he was - but he was glad to be a slave to a good human at heart.
Then, there is a short story inside about a mother and her two children. The lines below left me sore in throat. I was speechless. This violation of innocence is the worst part about child trafficking. Poor little souls have no idea wat they have been tricked or forced into. All they want is love and that warm hug from their family. I always have goosebumps thinking of the sudden and cruel realities of evil being thrown upon them. I am sure I cannot even imagine a child earning to obey out of fear when just hours or days before everyone was at his or her service.
"The lad was a sprightly child, that answered to the name of Randall. Most of the time he was playing about the yard, but occasionally would cry, calling for his mother, and wondering when she would come. His mother's absence seemed to be the great and only grief in his little heart. He was too young to realize his condition, and when the memory of his mother was not in his mind, he amused us with his pleasant pranks."
It was not only the child, the plea and wails of the mother too - which obviously fell on deaf ears and blind eyes. I could not help but cry my heart out on those pages.
"Life is dear to every living thing; the worm that crawls upon the ground will struggle for it."
The book is full of lines and phrases I went back and reread to confirm if I comprehended it correctly. This was such an eyeopener and realization of sad realities and bitter truth. We are sitting in the comfort of our house and wonder if we are doing too much work or too little! Imagine a slave who is forced to do some work which he is constantly dreading upon to not to be in less amount than the day before and at the same time praying that it's not more too - for that would set the new standard right then and there.
Below are some lines so aptly describe the reason of being someone so cruel ad stonehearted. As we say - it's not a person who is wrong it's the education and environment around him/her that's to blame:
"It is not the fault of the slaveholder that he is cruel, so much as it is the fault of the system under which he lives. He cannot withstand the influence of habit and associations that surround him. Taught from earliest childhood, by all that he sees and hears, that the rod is for the slave's back, he will not be apt to change his opinions in mature years."
While the author was rescued and became free, I could not help but wonder about the fate of his fellow mates specially those who were the slaves of some cruel men!
Would I recommend it to my friends: YES! BUT WITH A WARNING OF BEING READY TO BE SCARED AND BE THANKFUL TO TIMES THEY ARE LIVING IN.
I picked up the free copy from Amazon classics. The book is currently in public domain and can be easily read free of cost. If once does wish to go ahead and buy it – it's a great book to add to that bookshelf as-well.
IF you wish to add "Twelve Years A Slave by Solomon Northup" to your bookshelf, visit the links below to purchase the book from Amazon. Below are some links. Alternatively, go to the Amazon search results and pick the publisher or price you are comfortable with:
Note: I may get a small commission if you purchase using them - WITHOUT YOU BEING CHARGED AN EXTRA PENNY.