First off I just wanted to give a warm welcome to some of my new follower's who have stopped by these past couple of day's. Thank you for all the sweet comments and I am so glad you are here and hope you stay awhile and enjoy our adventures we have here.
So onto some Valentine's day talk. This year I have to go above and beyond then from last year. Why you might ask that I need to do better then last year? Well last year I get the award for "not cluing in that your BF would have at least liked to gotten a card" award. I am not going to lie I always thought this day was basically just for us girls lol (selfish.....yes I would say so). In my previous relationships I was never with a guy that was a candy-teddy bear-card-flower type of guy who cared much about this day. Then last year for our first Valentine's day together, the BF went all out for me. Went to a really nice restaurant, got me flowers, a few things from Bath and Body Works and a really sweet card.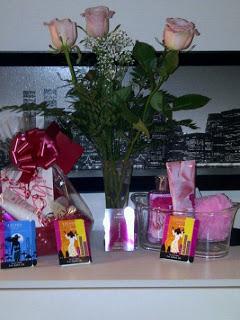 so sweet...right??!!!


So thinking that the BF was the type of guy who also wouldn't care about this day as he is one of those guys-guy man. Well let me tell you....was I ever wrong. I found out about a month later that he was a little sad that I didn't even get him something like a card. That is all he wanted but he felt a little embarrassed when he was at work and all the other guys were talking about what there wives or GF's gave to them, and he had to tell them nothing lol. Who knew that guys actually cared a little bit about this day.
So this year I am going all out!!. I already got his card-one point for me! and I thought I would share some of my ideas that I will be trying out for him as being on MAT leave doesn't give me many things that I can buy for him. So this year will mostly be a DIY Valentines day for him. So I have been on Pinterest for many hours to find some cute ideas to make for him.
First I will be making him some cute cupcakes like these.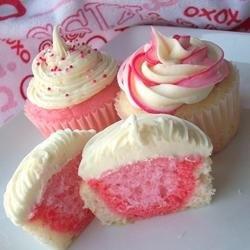 I will also be getting him some of these fine things!!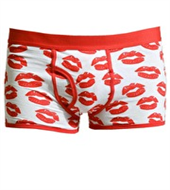 he is going to love that I just told the world he is a briefs kind of guy...oh well!!
I also love the idea of these coupon books that you might have also seen around the blog world, so I will be on a mission to try and find one here like this one.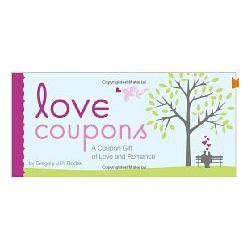 I also found this cute idea off of a website called "A small box with kisses", where you 
get a 
small gift box and fill it with 365 chocolate kisses. Then add a little note explaining that he now can have a kiss everyday of the year from you. Even though I know the box will be gone in about a month lol. 
Lastly I will also print off a few pictures of me and him like I do each holiday to give him of just me and him in a cute frame he can bring to work. 
Keep a lookout for actual pictures on what happens on this day!
Now it is time for a cute little outfit ideas for the little one, because of course she will be in a sweet little outfit and sleeper for that day. Here are a few ideas I have found. Cant wait to get a few pictures in her first Valentines day outfit.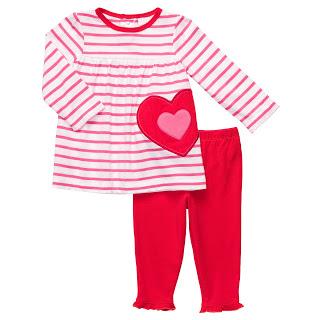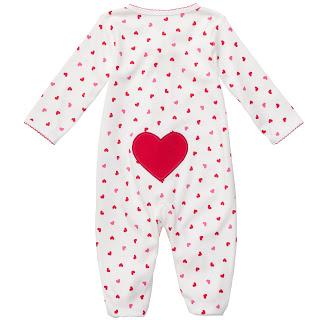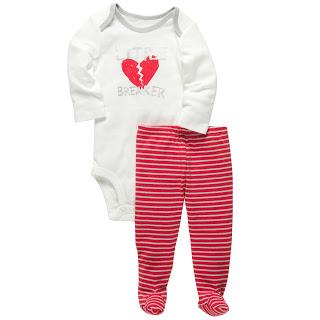 I would also love to hear some of your ideas that you give to your significant others or what you have given them in the past. I could also use some great hints to make this a extra special day for him too!!
Hope to hear from you all!
Until Next Time XO