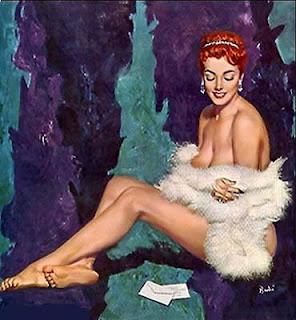 Last night was gorgeous. I was lying on a soft bed with satin sheets, surrounded by furs, with a light breeze coming through the window. It was my total boudoir fantasy come to life! I felt like Marilyn Monroe in one of her many bed photo shoots (Remember when Lindsay Lohan attempted to recreate that? Gross.). I wanted to toss and turn dramatically, but something was stopping me, my neck was being confined by the furs, and for some reason making it difficult for me to move.
...and then I woke up.
With stinging groggy eyes, a pounding head, wearing an old house dress, and still caressing what I assumed was my mother's fur stole that I had fallen asleep with, I came back to the reality of the harsh morning.
Perhaps I may have celebrated my anniversary and the 4th a little too hard, and thought putting on fur in July was a good idea.
Then I remembered, my mother doesn't have a fur stole and neither do I, but the fur was so soft and felt so real. Was I hallucinating? When I went to remove it from my neck, it began to make noises and little prickles that felt like tiny pins dug into my neck...
So apparently this is what happened last night...
I came home from the 4th of July firework extravaganza hosted by the Long Island Italian Heritage Society, spoke to Séb in Paris who was just getting up for work, went for a dip in my mom's blow-up pool where I flopped around like an idiot, and then grabbed not one but two of the stray baby kittens from the backyard, and passed out with them nestled under my neck...in my bedroom. I'm so not this kind of drinker, I always remember what happened...clearly not last night. I had spent the day sitting out in the sun, sipping on Campari and Pellegrinos. Perhaps the mix of the sun and my favorite summer cocktail dehydrated me, turning me into a complete and total maniac. In a drunken stupor, I slept with wild animals on me! Who does that? It was like a loser girl version of The Hangover. I don't remember doing any of this, not even the phone call to Séb!
The kittens just looked back at me, looked at their luxury surroundings with the morning sun bleeding through the cracks of the blinds, and began to mini meow. They wanted out. My mom then opened the door and in her thick Long Island accent called me an asshole, and gently she took each kitten off my neck to release them back into the wild. Upon opening our front door, we were greeted with an unhappy mother cat who was standing at the porch waiting to retrieve her babies from the drunk slut who stole them last night. The kittens went right for their mother and began nursing.
Now for the serious part, every summer, my mother has a kitten population in her backyard. Capturing them is the easy part, finding them a happy home is not. She has put ads on Craigslist, but after she received an e-mail from a creep who had an e-mail address referencing the terrifying band Gwar, and who wanted to feed the kittens to his snake, she took the ad down. She has brought them to shelters, no one will take them, one guard even went as far to say that they will be euthanized if she left them there. We have also offered them to friends on Facebook and have been successful, but not always. Is there a better way we can control this? No one wants these little angels.
The lesson of the week is three (or more) hours of Campari cocktails, a blazing sun, fireworks, and a pack of adorable baby kittens may not mean much to some, but to me, it's a dangerous combination, never to be repeated again. I'm just glad that they didn't die on me and that their mother took them back even with the scent of human on them. I'm so embarrassed, but hey at least I didn't drunk dial someone I'm not supposed to!
I hope everyone had a fabulous 4th, and will have an even more fabulous weekend! I heard the sun has made its way over to Paris! Enfin! Profitez-en!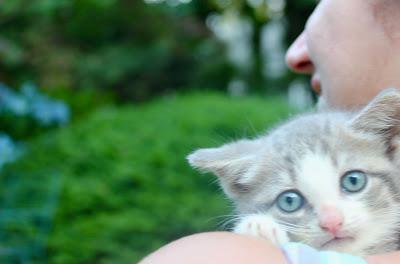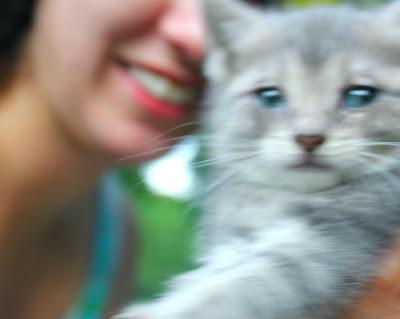 Wouldn't you just scoop up these little juice monsters too?!
That's some next level cuteness.