It is #birthdayweek at the casa as I turn 30 on Friday! 
Since my birthday falls on a travel holiday, I typically just travel myself, like our trip to Belize, or take advantage of some quiet on the home front, like when we did our blue powder bath renovation. 
This birthday, I felt, called for a gathering, especially since it's now been a minute since we got the friends and family together at our wedding. We've been working in the backyard quite a bit and it seemed in good shape to do some entertaining! 
Love of color naturally transfers to a love of Mexico, so I took that as the loose theme for the night. 
Hands down the best idea was working with The Color Condition to give the backyard a techincolor dream coat of their amazing, weather proof streamers. The girls came over before the big weekend to look at the space and then were over the day before the party to go to town. It absolutely transformed the back yard! 
This is what my yard/life looks like in my mind every day: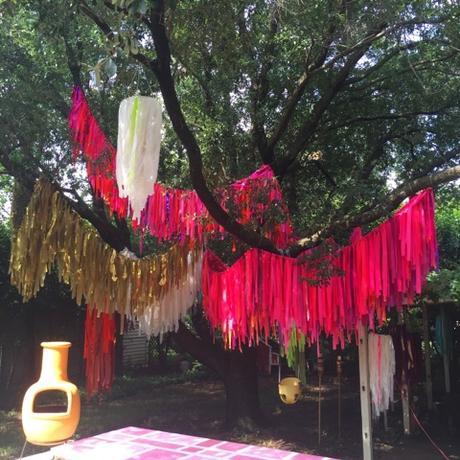 I kept the food easy but filling enough with tamales and chicken taquitos catered by Trinity River Mission. TRM is an awesome non-profit in Dallas that takes care of the children of West Dallas through programs such as literacy development, after school tutoring and a kid's cafe to make sure children in the neighborhood in need can have nutritious meals. Moms who benefit from the programming cook for the center as a fundraiser, and it is some of the best Mexican in town for dirt cheap catering! You can contact Rafael at [email protected] if you are ever interested. So many people asked where the food was from and loved that it was delicious and making an impact in the community.
The adorable napkins are from Monograms off Madison.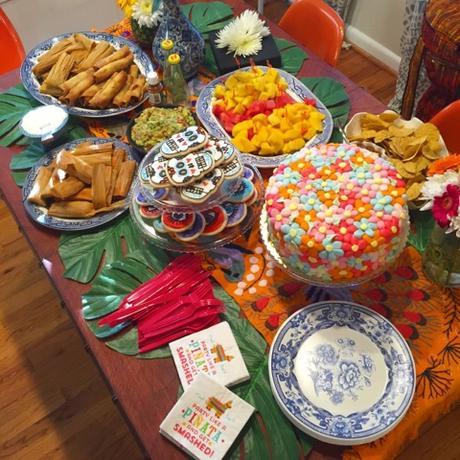 I wanted to make sure my desserts were gluten free so my family (it's almost all of us these days!) and I could enjoy them. I was thrilled to find out Stein's will bake your gluten free cake mix and they did an amazing job on the cake for another fraction of what is typically quoted for a gluten free cake this size. We paid $40! 
Another local favorite of mine is Dallas Bakes, who attended elementary school with me. I sent her a Mexican illustration I had that had these skulls and evil eyes, and she totally nailed it. I've worked with her for my job, and love that she sends a sketch for approval before she makes the cookies so there is no anxiety of what to expect. She also can prepare cookies gluten free, which I took her up on!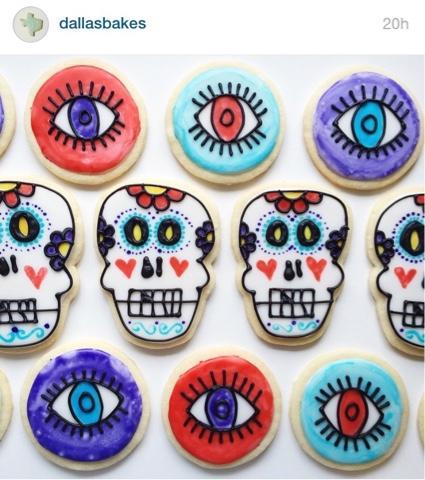 After food, it was just hanging out and party time! 
My wedding, my sister's wedding, Heidi's birth - these are the family milestones marked by a good cigar sesh. I was very honored to have my 30th in the mix and have some stogie time with my Dad, Markus and my brother in law. I am sure many a southern lady smokes cigars under her Lilly for Target patio umbrella.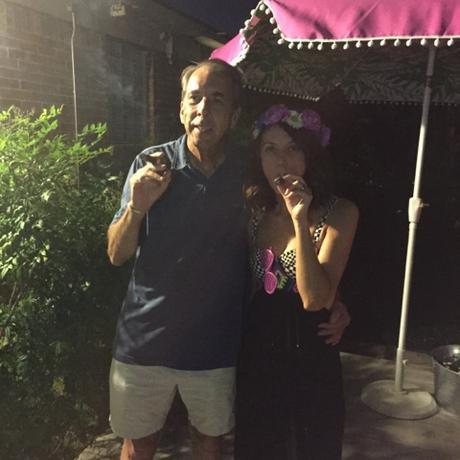 My mom and sister looked amaze. Btw, my sister and I doubled down on the Mara Hoffman and you can get her jumpsuit here. It is also an amazing swim cover up!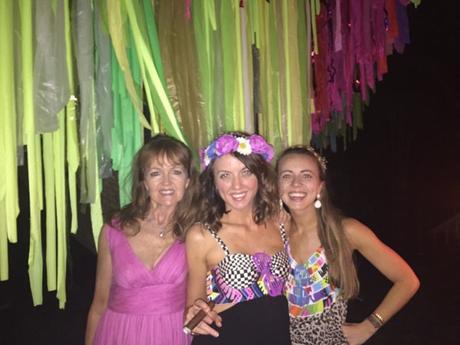 Some of my most loyals from work came by! I just cannot get over how the streamers made our regular ol' backyard photos look like we were cosmic goddesses.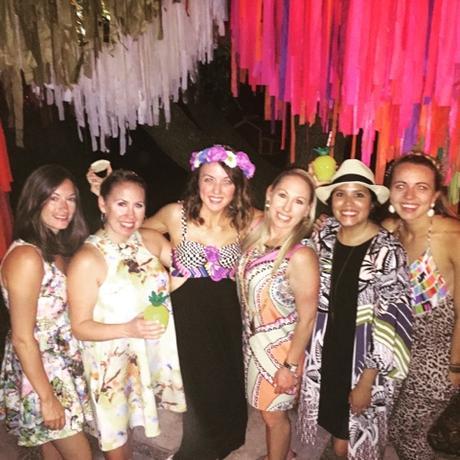 I also found this fun cactus pinata and filled it with some candy and mini bottles of Fireball and Deep Eddy Ruby Red. It was a hit - - - wink!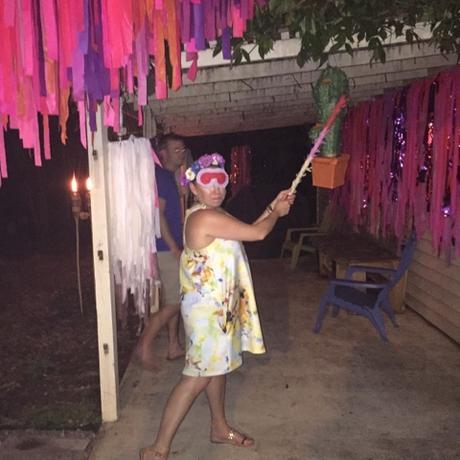 Late night was me eating the last eyeballs and watching Jay Z videos with my best friend and sister. Life is good! I'm glad I took a night to celebrate!