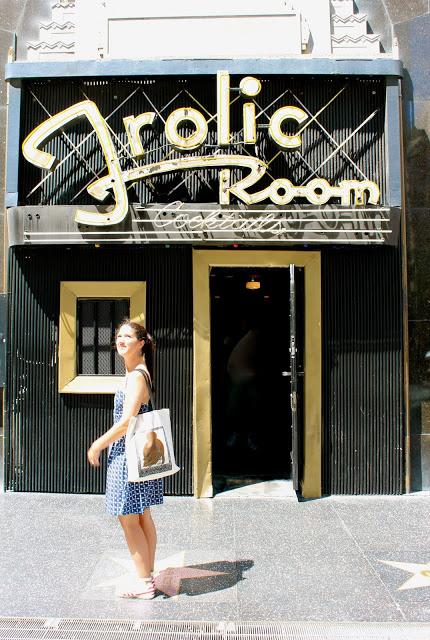 ...with a trip to the DMV.
Yes, that's right. While soaking up the sun, cruising down the boulevards in our bitchin' Hyundai Accent, and Aurélien relishing in his very first star sighting*, we had to stop at the Hollywood DMV.
For those of you who follow me on Twitter may know, I recently tried to reinstate my New York driver's license only to learn that because I had let it expire for more than two years I would have to take my road and written test all over again and would have to reapply for a learner's permit. Kicking myself for being so negligent to such an important document, I took a deep breath, accepted my fate and called up the driving school located near my mother's house to schedule my driving lessons before the honeymoon. When explaining my situation via a Skype phone call from Paris to the operator, my request was met with an evil laugh.
I really hate when that happens.
The man who went by the name Tony, explained that classes were booked up until September because August is their busiest seasons to conduct driving tests. Being old and out of touch now, I was confused. Why would August be so busy, especially with "everyone" being on vacation? I really have been in Paris too long. Just because Paris is a ghost town, it doesn't mean the rest of the world is on vacation. Tony explained that I was competing with high school seniors trying to get their licenses before the school year starts in September and that classes have been booked for months now.
Great.
I had accepted the fact that I would not be driving in California and brushed up on my directive skills in French, as I would be the annoying passenger seat driver during our trip. I wasn't thrilled about the arrangement but there was nothing more we could do; it was my consequence for letting my New York license expire.
After Aurélien almost got us into a fatal accident on Sunset our first day as he slammed on the breaks thinking it was the clutch, we needed a Plan B. Fast.
And then I realized something....

California license may not be expired. I didn't have a recent copy of it because my wallet had been stolen a few years back and never ordered a duplicate because I wasn't physically in the state.
Being in California, it was worth checking out even if my request got denied...so we interupted honeymoon bliss for a trip to the Hollywood DMV.
We arrived at what we thought was bright and early at 10 am. (Again, insert evil laugh) At the counter, I explained why I was there and before I could even finish my "story", an application was slammed down before me and was shooed off to fill it out. 
Moments later, I arrived back at the same window -- still bushy-tailed and happy that I was getting so much attention immediately -- and handed in my application with a part of me hoping that they had a stock copy of my license in "the back", and we would be on our way to continue Los Angeles sight-seeing. 
While the woman was actually very helpful and friendly, she handed me a ticket and told me to wait until my number was called. My number was 220. In the waiting room of about a hundred other hopefuls who were all beautifully bored; processed blondes and redheads slicked on pout-enhancing lip gloss, guys with their bronzed muscles and sleeve tattoos taking stretch breaks before going back to their riveting game of Jewels Saga on their phones, conversations about the CBS/Time Warner drama that seems to be all the talk in LA, and the occasional pampered Hollywood dog trotted his way through the waiting room. Looking up at the electronic number display board to find that they were only at number 95.
If Aurélien was going to brush up his English (especially his numbers as they were being shouted out painfully every five minutes), an LA DMV was certainly the right place to be.
So I may have been in France too long but there was one scene that struck me as a little bizarre.
There were two applicants waiting with the rest of us, only they weren't in the seats where we were, they were making themselves at home at the eye examination station. You know, the little black light box you have to lean into to recite the letters. At this station, the two of them had their feet up on the table, were eating relish-drenched hotdogs from the vendor cleverly parked directly across the street from the building, were watching YouTube videos on their phones at a relatively high volume and were animatedly reacting with chants and laughs.
I think what intrigued me more than them using the eye station as their home for the afternoon was the fact that they weren't asked by anyone to at least lower their voices. Once again, maybe I have been in France too long because that would certainly not fly in over there. Living as a foreigner in a bureaucratic system that could deny my visa if I chew gum during my appointment or if I use the imparfait when it was clearly a passé composé moment, I guess I am hyper aware, not to draw any attention to myself in these kinds of situations.
The duo managed to keep us all entertained as their loud commentary allowed us too, to enjoy their videos by extension. With my number thankfully called three and a half hours later, we left there with my temporary license in hand, claiming the keys to our badass rental car and cruised down Sunset to get a much-deserved shaken margarita.
*Aurelien's first and only sighting was Beck down in Silver Lake. Both being pretty big fans, this was the perfect sighting. We both looked at each other with wide eyes, and when out of sight of this iconic musician, we did our happy shuffle. When recounting this jewel of a sighting to our 22 year old bartender that night at a local bar, she said, "Wait, I think I've heard of him. What's his song again?" 
I didn't think I could be more shocked than the hotdog folks at the DMV. Guess I was wrong...