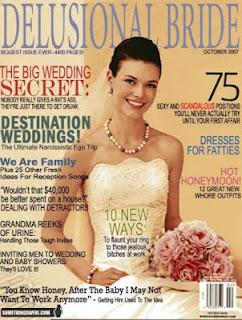 So the big day of my small wedding is only roughly 2 months away. Still so much to do.
Here's all the stuff floating in my head.
1. Get a hold of rental company so they charge the 90 day deposit that was due a month ago. I contacted them at the 120 day mark, they said they'd contact me at 90 days and never did. Done!
2. Have my fiance rent his tux and get that ordered. Need to decide which location we'll use as the pick up location on the East Coast. Done!
3. Get my family to find a garden center near the wedding that can supply forget-me-nots flowers in either 2 hanging-baskets, or something similar for the chuppah (canopy).
4. Receive the rest of the RSVPs - still 5 on my side, 20 on my fiance's side that haven't responded to our invitations.
5. Discuss the catering in depth with the hotel, give rough numbers (and later, exact numbers) of the meal types. Get quote from hotel for our customized meal (they didn't mention any prices in February).
6. Start making music playlists. Buy more klezmer music cds.Done! Between Emusic.com and HMV.ca, I have lots of DRM-free music for the wedding now. I have a "love song" playlist for background music during the reception, and the beginnings of a klezmer/greatbigsea playlist for later. Need to pick specific end of ceremony song & first dance songs.
7. Design program book describing info about the ceremony, and cultural elements of the wedding for the guests. Include a Hebrew prayer for before & after meal for those who want to refer to that.
8. Make an extra detailed program book for my music technician, to know the cues to play certain songs.
8. Find some spare kippahs (yarmulkes) to offer those who are interested.
9. Find an old-fashion incandescent light bulb that my fiance can smash.
10. Find a "card box" for the gift table, and a yarmulke basket
11. Make sure wedding cake plans are still a go.
12. Determine seating and set up schematics for ceremony & reception. Given the small size of the audience, the parents and brothers may not be under the chuppah. It will also be a very short aisle to walk down, or a long aisle of empty chairs. Will work on determining the best way to set this up.
13. Need to book centerpiece flowers (blue hydrangeas) 4 weeks in advance from florist.
14. Have sister pick up wedding license.
15. Have other sister know she will be doing make up, etc. Done!
16. Remember to bring hair curler out east for my hair.
17. Pick up my wedding ring from getting sized (will do today) and get fiance's wedding ring sized. Done! But need to pick up my fiance's ring.
18. Pick up ribbons or other decorations for chuppah.
19. Buy a little metal/plastic/decorative horseshoe to embed in my bouquet.
20. Make my bouquet (~3 evenings of work remaining)
21. Have my dress cleaned and possibly re-altered if it's too small for me now. (partly Done!)
22. Wash all the seashells.
23. Find out if time off for honeymooon is possible and possibly book honeymoon
24. Design seating chart info for easel
25. Print photo of my Papa & Me to display with a small candle in remembrance on a small table at the reception (his passing is exactly 5 months before the wedding).
26. Transport all the wedding supplies from my parents' to the city (including chuppah).
27. Determine if cards/donations will be used as favors, or if we'll omit favors all together.
28. Finish writing toast to the groom.
29. Determine seating arrangements for reception. Done! (Well, with the preliminary guest list anyway).
30. Remind everyone that I am not having a bridal shower, and that the closest thing to a bachelorette already happened last weekend. It was just me, one friend from elementary school, and 4,600 NDP members.
Thank goodness I already have lots of stuff done, like the ceremony is written, the ceremony/reception venues have been booked for over a year, and most of the "big" things are done. It's just all these little things and chasing people down for details that is left. Phew.