Uber seems to be no stranger to the issue of harassment perpetrated by their drivers – in April of this year CNN reported that there are 103 Uber drivers in the U.S. who have been accused of sexually assaulting or abusing their passengers in the past four years and least 31 drivers have been convicted for crimes ranging from forcible touching and false imprisonment to rape. In March Your Story and The Hindustani Times wrote about a woman who faced harassment in New Delhi from an Uber driver, and last month The Times of India carried a story along the same lines about a woman in Mumbai.As this story was being written - bakamoono.lk was contacted by people sharing the stories two other women in Sri Lanka who had also faces harrassment from Uber drivers.  In Colombo (the only city where Uber is currently functional in Sri Lanka) V's* story is no less horrifying. It a Saturday night and after finished work at 12.50pm she called for an Uber placing the location as Ramada Hotel (many riders do this as it is less hassle to have drivers come to a nearby landmark). After accepting the ride, the driver then called her asking what the drop location was, to which V reminded him it was company policy that he take the rider to wherever they had placed the drop location. This stems from a long-standing issue with cabs who accept the ride and then claim the drop location is too far or not worth their time, forcing riders to incur a penalty when they cancel in order to find a new driver. It seems being told this didn't sit well with the driver who then began to shout at V and abuse her in what she described as "Sinhala filth". Appalled and furious she informed him that the way he was speaking to her was unacceptable and that she was going to complain about his behavior to Uber.Once she hung up she said he seemed to have cancelled the ride but continued to call her. V ignored the calls and blocked the number via her iPhone after the 5

th

 call. Shortly after the number was blocked she received another call from a landline number which she answered. It was the receptionist at the Ramada Hotel asking if she had called for an Uber as the driver had now come into the lobby and demanded that she was called, claiming he had been waiting for over an hour. Shaken V informed them that this man had been harassing her and they apologized for calling and assured her that they would deal with him. In the meantime, the driver continued to text V abusive messages, which included calling her a prostitute and that he would rape her.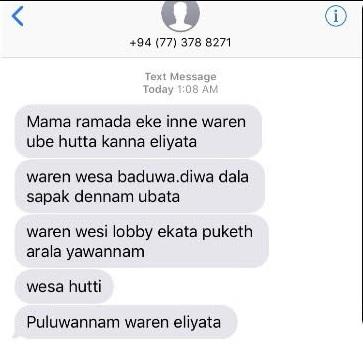 Shaken and frightened, V managed to get home with the help of a colleague and continued to receive phone calls from various numbers that she didn't answer. Upon reaching home and telling her partner the story, he answered one of the calls to find the driver screaming obscenities down the line. She filed a complaint with Uber via the app, was asked for more details which was sent and silenced the phone before going to bed – waking up to nearly 15 missed calls from various unknown numbers the next morning.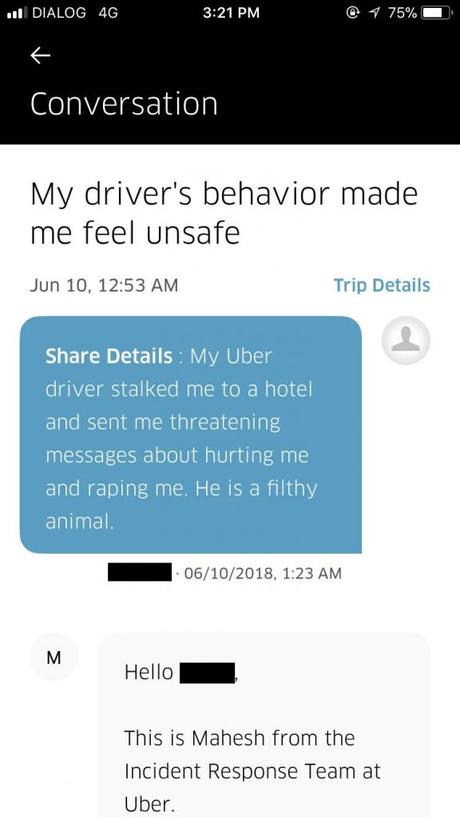 The next morning, she received a call from an Uber representative from the Incidents Team in India (it seems there is no specific operation for Sri Lanka alone) whom she said sounded "like he was reading from a script" but felt hearted by the assurances made to her that they intended to bring the driver to justice and launched an investigation. They requested more details in a follow up message which she sent. A little later she noticed that the driver details on the 'Past Rides' section of her app were not there – a strange occurrence as they are normally stored for all trips, cancelled or otherwise. A friend also helped her track the original phone number of the driver which was found to be registered to "Company SIM" and no particular name.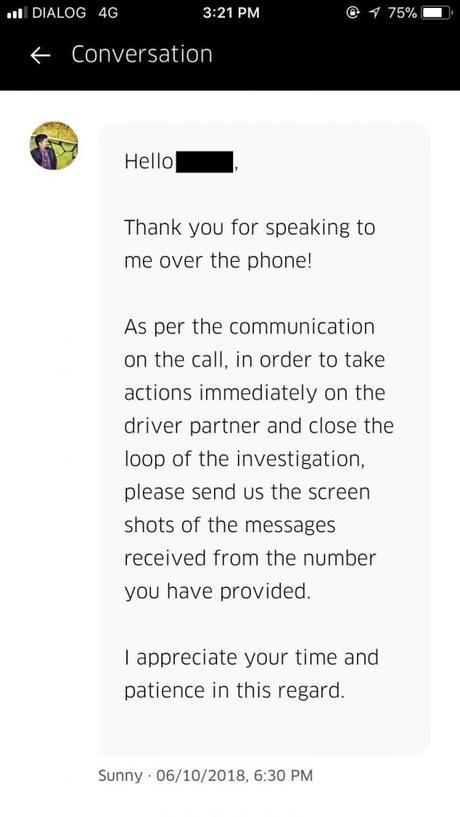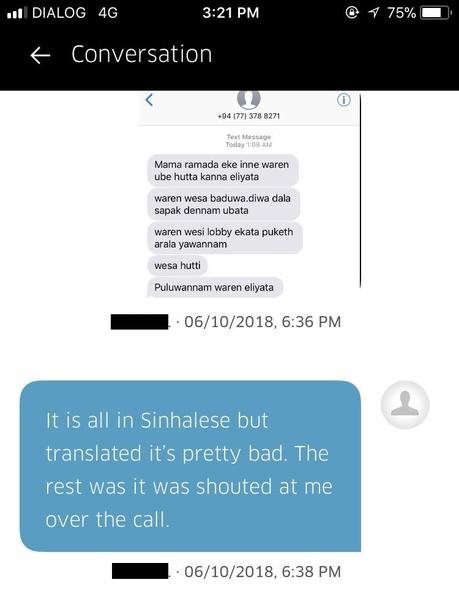 V didn't then hear from Uber for almost a day before she followed up asking for the driver's name to be released so that she could file a police complaint since the information was no longer available on the app. What she received was the generic response that Uber sends out to all riders who make a complaint – as seen below – and Uber also marked the thread as 'resolved' so that V was unable to respond again.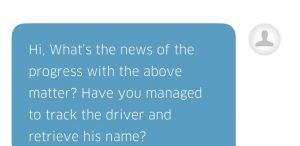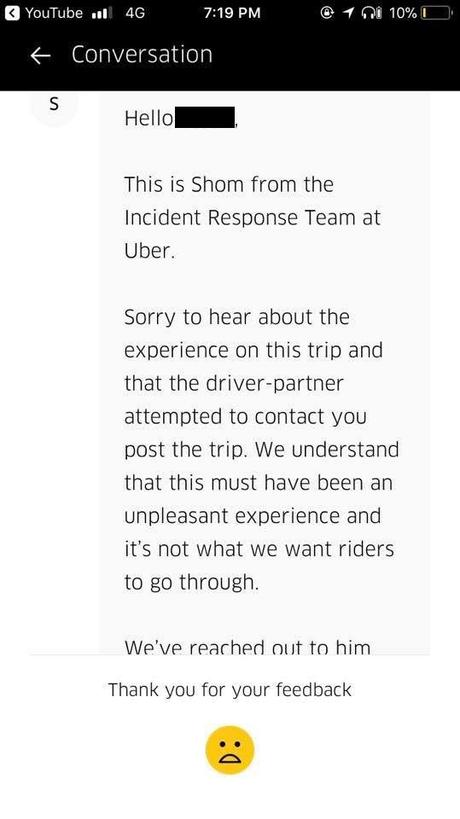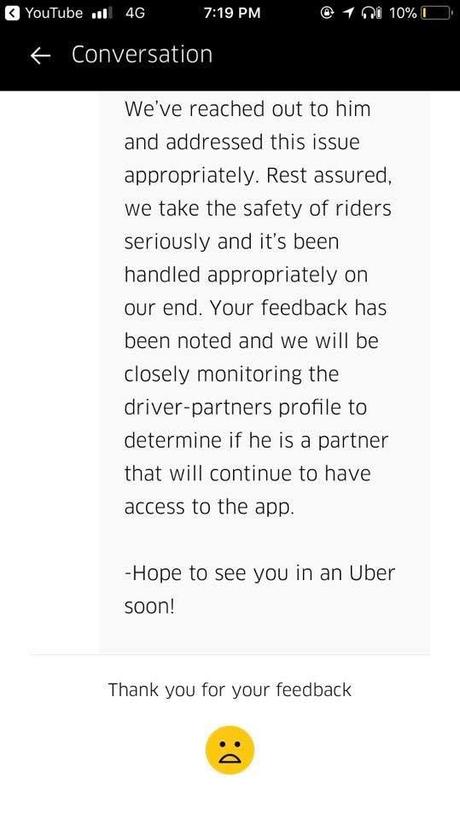 In the meantime, V also visited the Colpetty Police station to file a formal complaint and was directed to the Women and Children's Desk where she was asked when telling her story 'why she had shouted at the man in the first place'. She felt no compassion or empathy from the police, who seemed more interested in her actions and had even suggested that they bring the driver in for a 'sit-down to talk to out', completely disregarding her safety should a man who had threated her be able to see what she looked like in person. Furious and frustrated, V took to social media posting about this appalling experience which then garnered a great deal of attention being shared and commented on widely, and many people tagging Uber directly.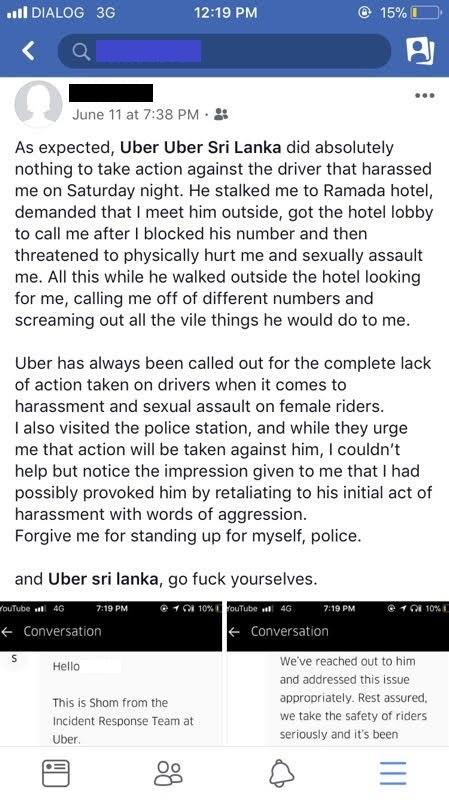 It wasn't long before Uber, clearly aware of the negative publicity re-contacted V and evaded her questions as to their previous attitude and actions. They informed her that the driver was 'temporarily suspended' and that 'further investigation' was needed before they could ban him from the app. No answer was given when she asked what further proof was needed.The following message was then sent to her – following the phone call.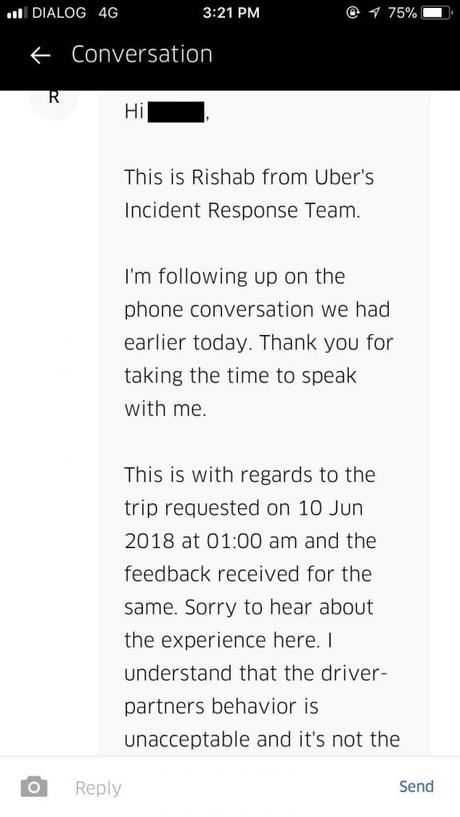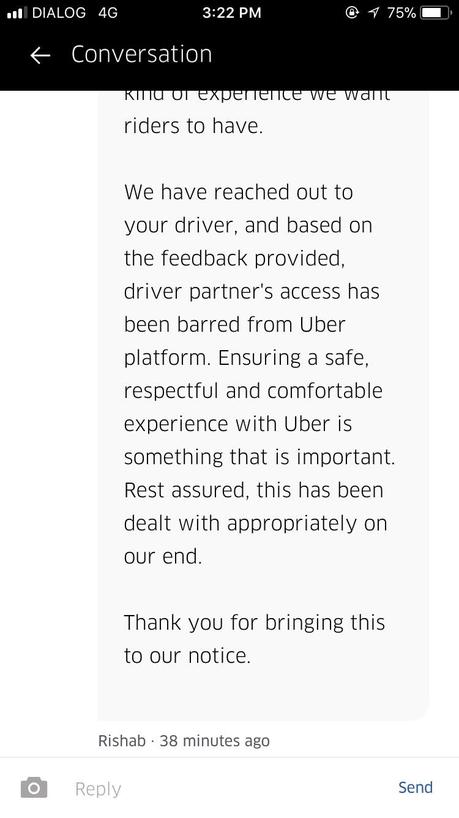 Bakamoono.lk contacted Uber directly for a comment via the Press section of their website on the 12

th

 of June, asking the following,"Hi Uber Sri LankaBakamoono.lk is working on a story regarding the harassment of women by drivers using their platform and would like some information from you. Could you please respond to the following questions?"1. Does Uber have a background policy check for their drivers in Sri Lanka? If so what is it?2. Is there a code of conduct that Uber drivers must follow in Sri Lanka when dealing with drivers? If so what does it entail and what is the procedure and consequences for a driver that violates the policy?3. Is there a team in Sri Lanka that handles customer issues and complaints? If yes then how can they be contacted, of not why is this not there?"On the 19

th

 of June the following email was received from an Uber spokesperson,"We believe that technologies like Uber provide an incredible opportunity to improve the safety of riders and driver partners in new and innovative ways—before, during and after every ride.Before the ride begins, a rider can double-check the license plate, driver partner's name and photo shown in the app. Riders are able to see a driver partner's rating to determine if they wish to proceed with a journey. Drivers partners are also periodically subjected to verification checks before going online to drive with Uber to make sure the driver partner on the account matches the one behind the wheel.During the trip, a rider can share trip details with friends and family, including estimated time of arrival and real-time access to the specific route taken.After the ride ends, two-way feedback is another way for us to pre-empt and resolve potential issues. If riders or drivers have any questions about their trip, or if they need to report an incident, our 24x7 support team is available to respond to any issues raised in-app or through social media.
While we continue to invest in technology to improve the safety of riders, we firmly believe that building a safe ride experience is a shared responsibility and requires concerted efforts from riders, driver partners, Uber, law enforcement agencies, policymakers and civil society at large. With this in mind, we are working closely with the law enforcement agencies, NGOs and Governments, through a series of partnerships and programs that will help pre-empt and prevent any untoward incidents and keep our cities UberSAFE.Last year, we partnered with the Delhi Police in India to offer riders quick access to Himmat- a women safety mobile app, through the rider app. This initiative was Delhi Police's first partnership with a technology company to intensify its focus on the safety of women in the city. With this partnership, the Himmat app is accessible to lakhs of women riders in one go.We also partnered with the Kolkata police to offer riders quick access to Bondhu- a citizen safety mobile app, through the Uber app. The Bondhu app allows users to connect directly to the Kolkata Police's control room in case of an emergency. We have also rolled out city-wise partnerships with local authorities to spread awareness of drunk driving incidents and promote road safety. Similarly, in Bangladesh, we partnered with the local authorities to integrate the national emergency helpline into the app.That said, we have a zero-tolerance policy towards any abusive or inappropriate behavior on our app both on the rider and the driver side. At the same time, we are equally conscious about onboarding driver-partners with valid documents, after a comprehensive background check that enables them to offer riders a great experience during a trip. We are committed to working with the Sri Lankan Government and other stakeholders towards partnering on road as well as rider, driver safety initiatives and moving our cities forward".Their response (which did not directly answer the second and third questions) also made no mention of the Uber community guidelines, and why the 'US Only' section could not be implemented here. The list of languages in which the section is available also does not include Sinhala (Tamil is included under Indian languages). Is Sri Lanka just too small of a market for Uber to care about its rider safety? What more did the driver have to do and what more evidence is needed to have banned him from the app? How does the Uber team manage their drivers and complaints from an Indian office which we assume has little to no capacity in Sinhala or knowledge of local procedures? All signs seem to say that beyond saying that rider safety matters to them, no actual commitment exists to ensure that those using the app will be safe and drivers held accountable."It sometimes feels like every day of my life is a #MeToo situation living here" V says, "and I just couldn't keep silent and let this go any longer. Uber tried to just sweep this issue under the carpet without any real attempt to actually take concrete action, what happens when he does this again to the next woman?"If you or someone you know has had an experience of harassment while using Uber in Sri Lanka, please email us via 

[email protected]

*Initial changed and screenshots edited to protect privacyAll screenshots were provided to bakamoono.lk from the intervieweeIt must be mentioned that when she spoke to bakamoono – V requested that her name and identity be kept out as she was concerned about the backlash she may face over sharing her story. This speaks volumes as to how women are treated as victims, and the re-victimization that takes place once they have spoken out.