...will not remain in Florence, obviously, but will be recounted in minute detail on this blog. Would you expect anything less?
Before 6am on Friday, I am sat on a train at Termini, waiting for it to pull out of the station. Florence bound! I left the hotel at quarter past five, and my fingerless gloves (I am prepared for the cold in Siena), new hat and departure under the cover of darkness makes me feel like something from a Graham Greene novel. 
There are a few tramps asleep at Termini, most of whom smell like fragrant piss. Incongruously, they all seem to have un-bashed, brand new suitcases to rest their trampy heads on whilst they nap on the edge of the platform. Bizarre. 
Finding piattaforma 1 (East) isn't difficult, but I am assisted anyway by an Italian man who seems to be wandering around the station. Clearly I look less like a spy than I first assumed – more likely I look tired and British. He appears as I am accidentally reading the Arrivals board instead of Departures, and having a momentary panic because my train doesn't appear to exist. My helpful new friend offers me a few words of advice in Italian, before deciding that it would be better if we spoke in French. Yes, ok – who am I to question? In French, he tells me that I should go straight on, then right, then through a tunnel. I thank him in Italian, because this is what is in my head, and retreat with shouts of bon voyage following me down the platform. Bon voyage aussi, you helpful station wanderer. 
On the train, then. I am almost the only passenger, aside from a woman who is walking up and down the carriage and looking extremely confused. Our first stop is Roma Tiburtina, just down the track. I pay particular attention to it because this is where the bus from Siena will drop me off on Friday evening, leaving me to make the last stage of my journey by taxi or metro, depending on the time. Tiburtina looks a lot like Clapham Junction, with the tracks stretching on and on, but I doubt Clapham is ever this deserted at 6am. 
I fall asleep, while the train is still rattling along through indistinguishable Roman darkness, and when I wake up it is light and we are approaching Florence. An American couple have invaded my seating area and are talking loudly about the hilarity of almost having booked a hotel room in Rome, Georgia, by accident. Dear God.
I find Hotel Fiorita easily (it is only 300 metres from the station) and am very happy to find that because of a cancellation my room has been upgraded to a double with ensuite. Yes, Florence! You are working well for me so far.
After dumping my stuff and picking up a map I get straight on with exploring. My first stop is Basilica San Lorenzo, which the extremely friendly reception man has circled on my map. I reach it through an outdoor market, which is full of stalls selling 'I Love Firenze' hoodies. The Basilica is nice – my favorite part is the garden, which contains a big orange tree. It is very Florentine. 
(Did you know, also, that Dante, Petrarch, Machiavelli, Galileo Galilee and Da Vinci have all called this city home? This is a fairly impressive list, considering that it takes in undisputed masters of literature, science and art, as well as the man who actually invented the sonnet. Mind blown). 
I carry on walking, vaguely following the map. And then I round a corner and am visually smacked in the face by the most impressive building I've ever seen: the Cattedrale di Santa Maria de Fiore.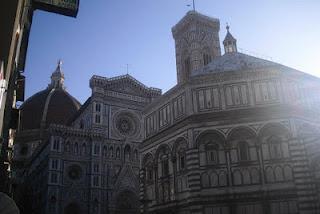 I go and sit at the top of the Dome. The view is mental. I could even go as far as saying that it is off its tits, but I feel that this phrasing may be disrespectful to Santa Maria. We are so very, very high up. Considering my all encompassing fear of heights (I could never even jump off the three meter diving board at Huddersfield Sports Centre without squeezing my eyes shut) I have no idea why I'm not shitting right about now. I'm not, though. I've even walked all the way around the outside and taken a video of the view. Maybe I'm growing. 
Florence looks like a favela from this height. A low-slung, sunlit, red and yellow favela. With a few medieval towers. And clocks. And Tuscan hills closing in from every side. 
It is extremely humbling and melancholy.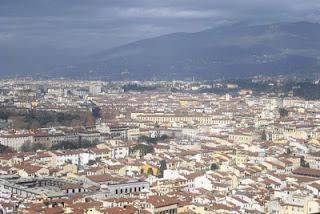 And then hundreds of Japanese teenagers appear and start taking photographs whilst bouncing on the railings as if they aren't about two miles up in the air. Time for dry land, I think. 
***
Heading in the vague direction of the river (towards Ponte Vecchio and the Uffizi), I see a sign pointing in the direction of 'Casa di Dante'. Well. I follow this sign now Via Del Corso (is there one of these in every major Italian city?) until I find not the casa of Dante, but the chiesa. 
This is a major event, I feel. The Church of Saint Margaret is better known as Dante's Church, it being where he worshipped, where he married Gemma Donati, and where she is buried along with her entire family of thirteenth century Florentine nobles. I sit in a pew in the tiny church (it is so small there are only four rows) and try to get my head around the fact that this is where the creator of the Divine Comedy, the Inferno, etc, got married seven hundred years ago. It is also where he met Beatrice Portinari, who inspired his poetry.
Afterwards I go across the cobbles to his house, which is now a museum. Here is what I learn: Dante Alighieri was born between the end of May and the end of June, 1265, to Alighiero di Bellicione and his wife Bella – a family of noble lineage, proved by its ties with other aristocratic Florentine families, including the Donatis, of which Dante's future wife was a daughter. His great great grandfather Cacciaguida had been knighted by King Conrad II and had died in the Second Crusade in 1147. 
I also infer that Dante quite liked Florence:
Where the lovely Arno flows, There I was born and raised, In the great city. (Inferno)
Since astrology was incredibly important in the thirteenth century, it was recorded that Dante was a Gemini. 
His mother died when he was young, and he was brought up with an older sister, a younger brother, and a younger sister from his father's second marriage. He was educated at home, and first met Beatrice when he was nine years old; she would later become his muse. Despite this, a contract between the Alighieri and Donati families saw him betrothed to Gemma Donati at the age of twelve.
Dante's Muse
Beatrice Portinari lived with her five sisters in Florence, close to the Alighieri house. Dante was nine when they first met; later she would appear in his Divine Comedy as Vita Nuova. '9' is a number that occurs throughout Vita Nuova, symbolising a miracle. He began writing of Beatrice in terms of courtly love, in the traditional way of poetry, admiring her beauty, elegance and grace, but eventually moved away from earthly reality and began a period of deep introspection. Beatrice married Simone di Bardi and died at just 24, leading Dante into crisis and years of philosophical study.
The museum tells me that,
In the Divine Comedy, she is the vehicle of his salvation and, as the symbol of theology, guides the poet in the last part of his other worldly journey.
My humble translation of a plague on the wall, without any help from Google: 
In the 8th month of 1991
In this church of 1033
A celebration
Of the 8th centenary of the death
Of Beatrice Portinari
The inspiration of poet
Dante Alighieri 
***
A few more Dante facts:
Dante's teacher was Brunetto Latini, who had translated Cicero as well as working as Florence's ambassador in Spain under Alfonso X. 
Dante was in exile from Florence between 1301 and 1311, because of fighting between opposing families in the city. Little is known about his movements during this time.
***
My life is crazy. I come to this conclusion not long later, whilst sat outside drinking espresso (to pep me for the Uffizi) at a cafe opposite the Ponte Vecchio. 
Ponte Vecchio: a 10th century bridge, covered in tiny, brightly coloured windows, once home to greengrocers, now inhabited by goldsmiths and jewellers after an edict by the Pope. They shops are their original size, without alterations, and the doors are tiny. The bridge looks like something out of a Grimm's fairytale. There is a gelateria at the end, and I indulge myself in a cone of stracciatella, whilst reaching the definite conclusion that I like Florence more than Rome. 
Now, back down the river to the Galleria Uffizi. I'm hoping that when I come out it will be getting dark and that Ponte Vecchio will be all lit up. 
***
Before I go into the Uffizi, I am busy taking photographs of the statues outside  -Florentine luminaries including Galileo Galilee, Petrarch (of sonnet form fame), Da Vinci and of course Dante– when I am accosted by a painter who is going about his portraiture outside the ticket office. He asks where I am from, and I tell him England. His response to this is fairly unique: 'You are of beautiful colours,' he says. 'Please, please let me paint you.'
Good lord.
The Uffizi stuffs my mind with artistic knowledge to such an extent that by the time I leave I feel like I've run a marathon (getting up at 4.30am is probably also a reason for this).
Afterwards I wander back to the square, thinking about Lidia's advice that I should 'not go out in the evening' – mildly worrying advice, that. It is half past five but already dark (it is December), and there are lots of people around in Piazza della Signoria. I was given a leaflet for a restaurant offering pasta/ pizza, a pint and icecream for ten euros before I went in the Uffizi, so I seek it out now – I'm not hungry after the massive stracciatella, but it is in the piazza and I expect will therefore provide a good people watching/ blog writing opportunity. The streets around are all lit up with Christmas lights, and on the way I browse through a couple of vintage shops – bellissimo. 
The restaurant is closed, predictably since it is only 6pm, but there is an Irish pub next door – it appears to be called, simply, Guinness. 
Well, this is extremely tempting. Sider e nero, per favore?
Yes, I think so.
While I am sitting with my cider and black, writing this blog and feeling extremely content with life, the lad who gave me the ten euro pizza leaflet and then found me lurking outside his restaurant comes over for a chat. He doesn't like Rome, he says. It is too big and confusing. All the streets are the same. He has lived in Florence for eight years, but is actually from Kosovo.
I don't pursue this topic of conversation.
After a while, when he has informed me that 'Guinness' will have live music on later, he goes back to work.
There are two American girls at a table near mine. Can you guess what they are talking about? The Wi-Fi in their hotel isn't working. Seriously. 
***
Also, Italians clearly do not know how to create a good cider and black, even if they are running an Irish pub. It is definitely not heavy enough on the black. I miss Wench and Meg whilst drinking this. 
***
When I was leaving the Uffizi I was informed that the best thing to do next would be to visit the Palazzo Vecchio. It is just across the square, so I go over to check it out when my cider is finished. It turns out the ticket office closed at 6.30pm, but part of the museum is outside and free of charge – I assume, I walked straight into it anyway. It is all statues and massive Florentine frescos. I wander back up one of the shopping streets afterwards. Something tells me that I should have a taxi number and credit on my phone if I'm going to end up at the 'Guinness' live music night. I deal with both these things before heading back to the restaurant, where I order pizza e funghi and swap the included icecream for wine. 
***
I feel that various surreal things have happened to me whilst I've been in Italy, but this evening in Florence, I think, might rate higher than any of them on the weird-ness scale.
The pizza is good. Afterwards I watch some Italian football at 'Guinness' whilst talking to the Kosovan boy about Rome, about Italian language learning, about various things in this area. The live music starts. I acquire another pint. Kosovan Boy has had no one in his restaurant all night (bar me), so we carry on with our conversation, which is very interesting. 
We are having a nice conversation about Florence, when Alban (or Arban, or Ahban, or something else – not going to lie; I can't remember though cider fug) tells me that he has featured in Jersey Shore and then invites me to Kosovo to meet his father. 
Pardon?
It turns out that he used to 'stay with people from Jersey Shore' and worked with 'Mike' in a gelateria just around the corner. Why Jersey Shore was filming in Florence I was unable to establish. But it is true. At the gelateria, there is a photograph of The Situation in the window.
We discuss this for a long time. Alban (?) shows me a video on his phone of the house he and his father have recently had built in Kosovo. I come up with the bright idea that we should exchange contact details, so that he can practice his English and vice versa my Italian, and to this end we swap email addresses. He adds his phone number and full name too. Sometime between twelve and half past I decide that now would be a good time for me to leave. Alban (?) goes to talk to someone he knows –he appears to know everyone, working next door– and out of courtesy I wait for him to come back before I disappear. 
And wait. And wait. It is probably only about ten minutes, but I'm itching for bed and I really, really want to leave. And what am I waiting around for, anyway? So I go. I feel slightly bad about this (but not too bad). Honestly, I could have been waiting for half an hour, for no reason. 
When I get back to the hotel I text, apologising for running away. I don't feel mean, then. 
More tomorrow.