I've been meaning to start getting dressed on a regular basis. I mean really getting dressed- looking presentable rather than like a tired ol' mom. It's been easier said then done. And to make it even more difficult, Walmart had leggings on clearance for $2.00 each. So, of course, I had to get 5 pairs. But, I don't think I will be wearing them much because they're full length leggings, not cropped like I thought. Still, $2.00 is worth it.
My son and I had to run to Walmart to grab a few groceries and I wanted something quick and easy. I guess I should have looked in the mirror before we left because not only did I look like I threw on something quick and easy, I looked frumpy at best.
Mind you, this photo was taken after a near nervous breakdown. Not that it would have made that much of a difference had I taken the photo beforehand.
I look awful. I think my outfit looks awful. But I'm posting this anyway. Why? I think it will encourage me to dress better, to take more time getting ready, to really take the time to make myself look nice, to help me realize what looks good on me and what doesn't. Additionally, I'm hoping I will eventually make enough progress in regards to my weight loss that I can look back and be proud of my accomplishments.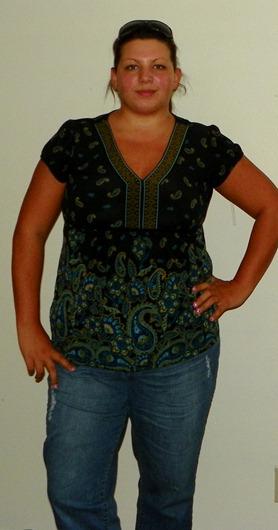 Top – Apt.9
Denim Capris- Fashion Bug
Black Wedge Sandals – Sketchers (DSW), $34.95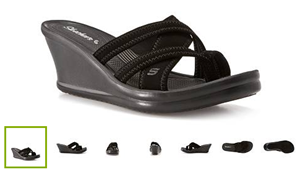 I realize (now) that these shoes kind of seem "old lady-ish" but they are super comfy. As much as I love them (for their comfort) I am definitely trying to break out of the comfort zone. There are comfortable shoes out there that are more age appropriate. Thank goodness I will be able to retire them soon!