(Note: A big part of the conversation on sexual and reproductive health and rights in Sri Lanka (and indeed globally) is the one on the legalization of and safe access to abortion - also sometimes known as the pro-life vs pro-choice debate. This 3-part series on the topic was written exclusively for bakamoono.lk and was first published on the site. It attempts to plot where this conversation has gone, where it is right now, and where it needs to go in a Sri Lankan context. Read Part I hereFor information on abortion, what it entails and other facts please see here)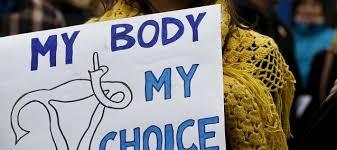 Voices in Support
While the Roman Catholic Church as an institution has expressed one standpoint – they are not the only organized voices from the Roman Catholic Community who have weighed in on the conversation. The Feminist Catholic Network identifies as "
an independent collective of Sri Lankan Catholics who seek to amplify the voices of the laity in social justice debates. We are guided by the principles of Catholic Social Thought, and by Catholic feminist theology. Using community learning and collaborative discussion, we endeavor to provide an alternative voice for Sri Lanka's Catholics
". The Network hosted the 'Forum on Abortion in Sri Lanka' held in February 2018 and the following speakers made presentations and engaged in a discussion around the proposed reforms:
Ermiza Tegal: an attorney at law, practicing mainly in the areas of fundamental rights, family law and domestic violence. Her advocacy work focuses on legal and social exclusion in areas of women rights, civil and political rights, and urban eviction.
Dr. Lakshmen Senanayake: an obstetrician-gynecologist. He was the National Coordinator of the FIGO/IPPF Initiative on Reducing Unsafe Abortions in Sri Lanka from 2005-2011 and was the co-consultant for the UNCP/Ministry of Women initiative to develop Sri Lanka's National Plan of Action to address gender-based violence. He currently serves as a member of the Expert Committee on Women's Health of the Sri Lanka Medical Association.
Anupama Ranawana: a researcher on religious political thought and the global political economy, focusing on Buddhism, Catholicism, and feminist theology. She is a Senior Researcher for the Centre for Poverty Analysis
The Network has also made public
a statement
which had been signed by over 100 Sri Lankan Roman Catholics expressing support for the proposed reforms to the law. The statement published in English, Sinhala and Tamil stated, "
In light of this information and as Catholics driven by love and empathy for those in difficult situations, we object to any barrier that would stop women from making a conscientious choice of their own free will to seek safe, legal medical care. We also emphasize that the 'official' position put forward by a few clergymen of the Catholic hierarchy makes a false representation of the opinion of ordinary Catholics. We strongly object to the campaign they have led against this Bill and find its position antithetical to the call for radical justice and mercy that is found in the Gospels
". It also provided theological support for the arguments presented in favor of the reforms.
Sri Lanka College of Obstetricians & Gynecologists have been among the most vocal supporters and advocates for the reforms, emphasizing the suffering and medical issues they come across due to unsafe and illegal abortions being performed.  Dr. Kapila Jayaratne (National Program Manager for Maternal and Child Morbidity & Mortality Surveillance at Family Health Bureau) said to the
Daily News
 "
I don't even like using the term abortion," he said in a recent interview, because of the stigma it carries. Instead, he said the proposed Bill was about the "medical termination of pregnancy" in two specific instances. "We don't have any other agenda," he said. "We daily witness the sufferings of women," he said. "And it was a suffering for the baby also … he is suffering in utero, and then after delivery, and then after one week he ultimately dies, giving another grievance to the family and the community too." "Ours is a medical perspective and what we're advocating is a human approach," he added. "We respect belief, but at the same time, we need to look at the suffering
." Prof. Wilfred Perera (Past Patron and Past President of the Sri Lanka College of Obstetricians & Gynecologists Past President, Sri Lanka Medical Association)
penned a piece
in support of the reforms stating, "
I am the oldest living obstetrician in the country and have seen a large number of women dying in our wards from severe bleeding and infection following unsafe illegal abortions, performed by quacks, with high charges, when these can be performed legally and safely at no cost in our hospitals. We have over a thousand births a day and probably an equal number of unsafe abortions, based on various surveys carried out in the country. Around 10% of these are unmarried young women
". Dr. Lakshmen Senanayake (obstetrician-gynecologist and member of the Expert Committee on Women's Health of the Sri Lanka Medical Association) speaking at the Forum organized by the Feminist Catholic Network re-emphasized this stance in his presentation, highlighting the great deal of reproductive issues women face following unsafe abortions.
In a survey published in the Ceylon Medical Journal in 2015, 65 percent of the respondents said abortion should be legalized in cases of rape. Another 53 percent said it should be legal for pregnancies with lethal fetal abnormalities. Women's Rights Activists and those working in the field of sexual and reproductive health and rights have continued to advocate and push for reforms to the existing law. Youth Activist Sarah Asha De Soysa when speaking to bakamoono.lk reiterated the need to keep pushing, "
it may get rejected several more times, but we must keep the conversation going and keep asking
".
The Reality of the Need for Legal Access to Abortion
In October 2017, The Island reported that "
The National Drugs Authority (NDA) has sought the recommendation of the Sri Lanka College of Obstetricians and Gynecologists (SLCOG) to determine whether two separate abortion drugs [Mifepristone and Misoprostol] now banned in Sri Lanka can be registered for legal use
". The piece particularly noted that "
the advantages of medical abortion over surgical abortion include reduced invasiveness of the procedure, lack of risks from general anesthesia (which is often used for surgical abortions), and lack of risk of secondary infertility due to scarring and intrauterine adhesions. Furthermore, it is less complicated to administer and less expensive
". The Island shared the experience of chemists who said that abortion drugs are sold illegally in Sri Lanka, "
Misoprostol is sold in most pharmacies at 150 rupees per pill to "safe customers" while Mifepristone is relatively difficult to buy at 2,000 rupees each
", industry officials said. "
But, the bottom line is that these banned drugs are there for the asking
". It was highlighted that due to the inability to regulate the sale of these drugs patients take potentially fatal doses as they often unprescribed.
It has been found that the strict laws
result in many women turning to unsafe methods
that put their health and lives in grave danger, and many are afraid to seek the post-abortion care that they require, even though hospitals are bound to provide this care for them. Coat hangers, bicycle parts or papaya leaves were the most common methods of unsafe abortions at one time, which can often lead to sepsis and death. Now while the tablets are available on the black market, many women aren't given accurate information about how to take them, which can lead to complications. In the developing world, an estimated five million women are admitted to hospital for treatment of complications from induced abortions each year and
WHO estimates
at one in eight pregnancy-related deaths result from unsafe abortions. The cost of post-abortion care (which is provided by the State) is
estimated
 be to USD 232 million annually.
Abortion sits in the larger framework of Sexual and Reproductive Health and Rights and cannot as it is currently viewed, in isolation from this. As emphasized by Prof. Wilfred Perera "
good reproductive health should be viewed as a public health concern which, apart from the provision of safe and high-quality abortion care, must include having Sex and Relationships Education (SRE) in the national school curriculum and access to family planning and contraception services
".
Executive Director of the Family Planning Association, Thushara Ranasinghe is quoted as saying the Sri Lankan Penal Code on abortion is quite archaic. "
We cannot move forward with archaic laws because they may not suit the prevailing circumstances.  We hear a lot about sexual violence and an abortion would be the obvious choice in most instances. Therefore, relaxing the laws would give them a chance to get rid of some burden. In addition to that there are instances when there are fetal impairments and again due to the law the gynecologist cannot allow the patient to have an abortion.  The life of the mother should be preserved and there is a debate about pro-life versus pro-choice. The bad side of imposing stringent laws is that it gives a chance for the mothers to do illegal abortions which could lead to fatal results. Most illegal abortions are not properly monitored, and mothers have a high risk of losing their fertility as well
."

(To be Continued)