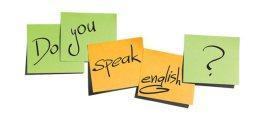 Image Courtesy: Auroreetthomas
It is an irony that despite being an Indian, we promote a foreign language and sideline our mother tongue, unlike China. However, the bitter truth is that English has become our necessity and we cannot ignore it. We all are desirous of good jobs, interact with international clients or customers, and even want our children to study in decent schools. Arguably, sound communication skills increment the chances for you to attain a haven to manifold. Various research reports second this very thought as well.
In one such study, which was conducted by three Students (Mehtabul Azam, Aimee Chin, Nishith Prakash) of different American Universities, Similar findings were revealed. The report released in 2010 inferred that  people with good English communication skills hold an edge over lesser or non-English speakers in terms of earning hourly wages. The study entitled "The Returns to English-Language Skills in India", based its findings on India Human Development Survey (IHDS) 2005 data and unleashed the following stats: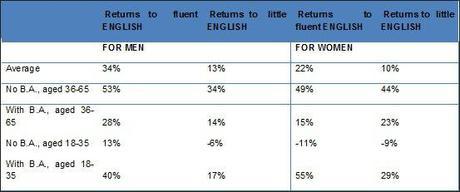 Image Courtesy: Ideas for India
On an average, among fluent English speakers in India, Male get 34% and Females get 22% higher hourly wages. The percentage of kaam chalaau (Okay type) English speakers getting hourly wages however remained  low, at 13% for males and 10% for females.

The statistics are sufficient to depict the necessity of English in our professional life. However, in our social life as well, the impact of English communication has been telling. While the rural areas are still content with communicating in native language, most of the urban areas differ significantly. Specifically in the metro cities, the headcounts of English speaking people are increasing appreciably. As per another data posted in 2007 by Jobsite.Y-Axis,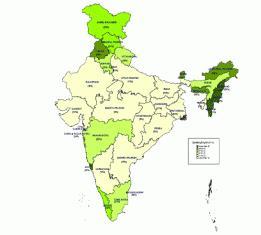 Image Courtesy: Voxeu
India was the second largest English speaking nation after the US, which was near about 300 million and equivalent to 100 percent of the United States population at that time. Moving over, on an estimated 350 million English users in India, around 100 million were English speakers.
So, what about the rest? The data  depicts the situation that existed 7 years back, wonder what is the current scenario? The below stats from a more recent report  answer the question.
In a Google fusion Table (published in 2012) including the List of Countries by English speaking Population,
India  was yet again only second to the US, with 12.16% English speakers out of the Eligible over 1 billion Indians. However, this ratio is too low as compared to the United States where out of an eligible 280,950,438 populace, 95.19% speak English. China was deep down the list with, 0.83% of English speaking population  out of an estimated 1,200,000,000 people.
However, Chinese people promote their own language religiously in corporate silos, education institutes, etc., and even want the foreigners to learn Chinese if they wish to do jobs there. Hence, such low percentage is not a matter of worry for them, but us, the Indians.
All these statistics are fair enough to give a certain idea of where does our country stand and how far do we need to go from here. We are lagging behind in English communication heavily, and the consequences are obvious – We work on lesser salaries, don't have satisfying jobs, both the kids and the grownups in our society are hardly communicative in English.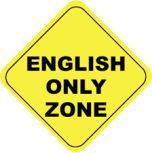 Some instant and perhaps efficacious steps would be to:
Improve our own communication skills; the beginning is to be made from somewhere deep within.
Spread awareness about the importance of this language
Develop interest for the language among others in our society
Following these points may well acts as the stepping stone toward ensuring a decent growth, both in our personal and professional life.
We can give excuses ranging from education to upbringing to not-so-good company, etc., for our bad communication. However, these reasons are not going to help us at all. Instead, we ought to work on this language, which despite being from the British, rules the roost in India.
The succeeding blog post would enlighten the scene with some interesting yet valuable tips to improve English communication skills. Until then, keep rocking!