"There must be a con like me in every prison in America. I am the guy who can get it for you, cigarettes, a bag of reefer, if that's your thing… …bottle of brandy to celebrate your kid's high school graduation, damn near anything within reason, yes sir ! I am a regular Sears and Roebuck."
-Morgan Freeman in his ever gentle enigmatic voice…
The film starts with a man, angry enough to shot his wife and her lover, then a scene at his trial at some court, he was sent to a prison for being guilty of killing his wife and her lover for two back to back life imprisonments and then the rest… the rest was called THE SHAWSHANK REDEMPTION.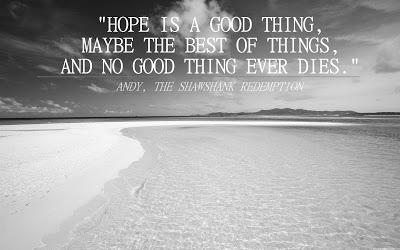 Tim Robbins? I never knew him before Shaw shank, nor I have seen his another film after that either But I believe, nobody could have been as good as him as Andy Dufresne, and honestly speaking after I saw The Shaw shank Redemption in 2008, after 14 years of its release and it's been 5 years and I can't agree more to say that it is the "BEST STORY" ever told in history.
On the other hand, Ah yes, there is always another hand, a counterpart. Every great thing has at least two ingredients that make it a great substance. The Shaw shank Redemption had Morgan Freeman to fill that gap. The Chemistry between these two men was wiser than any other men pair ever made.
There are several emotions of human nature depicted in this film, but the one that made its mark was HOPE. I have never been hopeless in life after "The Shaw shank Redemption". "TSR" is a story of friendship, decency and believing in hope. There were many beautiful events in this film that collectively made it become the best film ever made.
Remember the scene, when Red while watching a 1950s classic in the prison's theater waits for Rita Hayworth to shake her hairs and when she does that, Morgan Freeman creates a magical expression on his face, which showed the helplessness of a common poor man desiring a Hollywood actress almost impossibly.
And when Andy tells Red where Red must go, after being free from prison, and he tells only once and when Red reaches the certain place to find some cash and a letter from Andy. Andy wrote in that letter: "You remember the name of the town, don't you?" and Red speaks to himself: "Zihuatanejo." I loved that scene, it actually meant that "if you don't remember the name of the city, you actually didn't care to listen."
Here is what he wrote in that letter:
"Andy Dufresne: Dear Red. If you're reading this, you've gotten out. And if you've come this far, maybe you're willing to come a little further. You remember the name of the town, don't you?
Red
: Zihuatanejo.
Andy Dufresne
: I could use a good man to help me get my project on wheels. I'll keep an eye out for you and the chessboard ready. Remember, Red, hope is a good thing, maybe the best of things, and no good thing ever dies. I will be hoping that this letter finds you, and finds you well. your friend. Andy."
Shaw shank Redemption is story of the bonding of 2 men around 2 decades and the wisdom surrounding them. With the film moved its course, you will start feeling the wiser air.
Hats off to Stephen King and Frank Darabont.
Amritt