It's the final day of Le Clownian Christmasland, and the last post is up.  I only read through the first page of comments, but it seems like people are pretty sure it isn't me.  I wish I was so sure…
Stop by and leave a guess.
Also remember: I've raised the stakes and added a participation prize to the gift list.  I want to make something silly for each and every person who has shown devotion to our Anonymous5 holiday game.  So, if you comment on any of the posts with the super-secret-word BLITZEN, you can expect something posted here before the end of the year just for you, much like the Rara Doodles of last year.  Except they probably won't be doodles.
Le Clown saw my Blitzen, and raised it a hashtag– so you can join our reindeer games by searching the #Blitzen tag on Twitter.  We're having a ball!
If you've already commented, no worries– comment again.  If you can find some way to incorporate the word in a sentence– you get a bonus point.  If someone asks you what you're talking about, just remember that you answer to no one.

Leave a guess while you're at it.  Loophole: One of them is mine, and there's no rule about guessing the same person for each post.  Plus, all of us are honored to be confused with the other.
Today's Post: http://clownonfire.com/2013/12/20/anonymous-five/
Thank you guys for making this such a fun and entertaining week.  I can't wait to compile my thoughts on writer's voice!
______________________

If you have no idea what I'm talking about, here's a recap, complete with catch up links: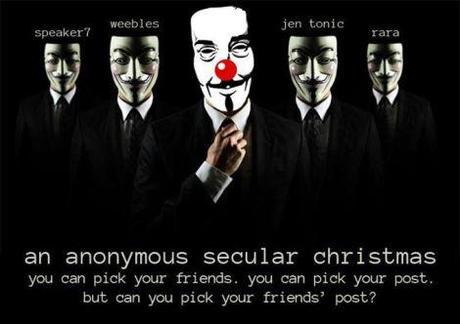 Le Clown is hosting a 5-day party, with guesses and prizes and Christmas stories. 5 different bloggers (1 dino, 1 clown, 1 weeble, and 2 poblanos) will be posting once each in that 5 day period.  The bloggers, in no particular order, are as follows:
And the twist?
All the posts will be published anonymously, and we will ask you– our dear, beloved readers– to guess who the author of each post is.
The correct guesses will be entered into a raffle for prizes.
Other than just recognizing my voice, if I were to assemble an honest Christmas wish list… I sort of want a Rarasaur reader to win ALL THE PRIZES.
We're Sherlockian in our detective skills, and George-like in our curiosity, and Olympian in our ability to arbitrarily guess.  In other words– we got this.  Strut your stuff.
Live it up in Le Clown's world like we own the place, because for 5 merry days– we do.
Anonymous Post #1:  http://clownonfire.com/2013/12/16/anonymous-one/
Anonymous Post #2: http://clownonfire.com/2013/12/17/anonymous-two/
Anonymous Post #3: http://clownonfire.com/2013/12/18/anonymous-three/
Anonymous Post #4: http://clownonfire.com/2013/12/19/anonymous-four/
Anonymous Post #5: http://clownonfire.com/2013/12/20/anonymous-five/
Go #teamRawr!  Comments closed in the sneaky hope that you'll pop over to say hey.  See you there!