My all-time favorite Fall activity is going apple picking. It brings back so much nostalgia from my child-hood, from the smell of the cider donuts to the cool brisk air. It's a great excuse to bust out your fall gear, spend quality time with family and friends and make delicious apple recipes!
This past weekend, we ventured up to Applecrest Farm Orchard and spent the morning apple picking. It was SO much fun. I was so happy and literally am already making plans for next year… we have to arrive right when it opens to avoid the crowds, I need to wear my Bean boots and I might have to have Emerson get her face painted!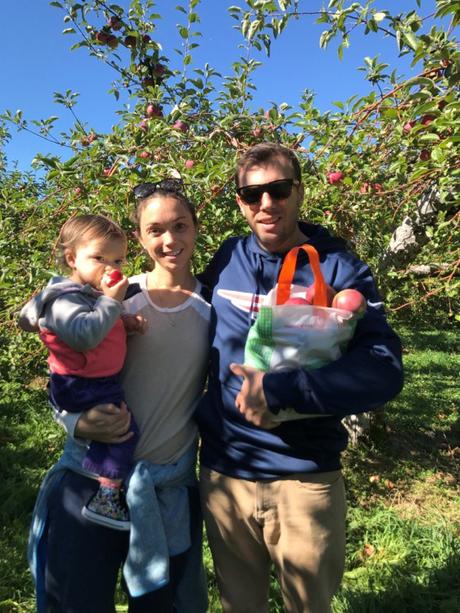 We came home with a giant bag of apples. We will never be able to eat them all, so I was googling fun and easy recipes I could make. There are so many!! I decided to compile a list of the 10 most simple, easy to make apple recipes I found. I don't know about you, but I do not have a ton of ingredients on hand and I also do not have a ton of time so when I look for a recipe it has to have minimal ingredients, be easy to make, require very little time and taste delicious. I mean, I'm not asking too much, am I!?
For instance, I don't have apple brandy, I don't have arrowroot, and I definitely don't have any of those special extracts. But I do have cinnamon, vanilla extract and lots of apples!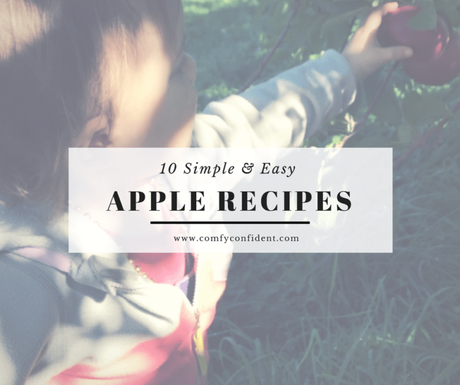 Here are the recipes. Enjoy!
Applesauce in the Slow Cooker [never done it. have to try. plus, then I can use it in other recipes listed below.] via The Kitchn
Homemade Apple Cider [because what's better than a hot cup of cider on a cool fall day.] via All Recipes
Baked Apple Stuffed with Oatmeal Brown Sugar [anything single serving is a win in my book. #portioncontrol]via The Kitchn
Apple Pie Bites [had to include some sort of apple pie treat] via the Blond Cook
Cinnamon Apple Quinoa Salad [I figured I needed to throw in some real food. not just desserts and treats] via Love and Zest
Apple Cinnamon Baked Oatmeal [oat bakes are the best breakfast for a working mom on the go; the feed both mom and kid, perfect!] via Five Heart Home
Apple Pumpkin Muffins [because Minimalist Baker and muffins are two of my favorite things!] via Minimalist Baker
5 Ingredient Apple Crisp [give me all the 5 ingredient recipes you can. This mom is all about ease and convenience!] via Carrots 'N Cake
Crock Pot Apple Cinnamon Steel Cut Oatmeal [it meets all the requirements. Crock pot = easy, apple = duh, Oatmeal = yum] via PB Fingers
Apple Cinnamon Blondies [these just look like the ultimate treat and I have to try them.] via Bakerita
What is your favorite apple recipe!? Please share! Maybe I will try to make that too