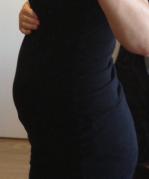 18 week bump.
After some preparing on Thursday, we took an early train on Friday to get to our 'babymoon' destination. On Friday we spent the day in Maastricht (and ate some 'vlaai' or 'vla' like the locals call it), which was really nice and arrived at the hotel later in the day.
Saturday morning we attended a presentation by a beekeeper, where I learned quite a few new things about bees. I wrote about it here. In the afternoon, we went to Aachen and spent the rest of the day and evening there. We visited the Aachen Cathedral, which is extremely pretty inside, and ate curry sausage and schnitzel.
On Sunday we had a 'late' breakfast and made a 7.4 km hike through the countryside. After that we went back to the hotel and enjoyed the swimming pool and sauna before retiring to the hotel room to get ready for dinner.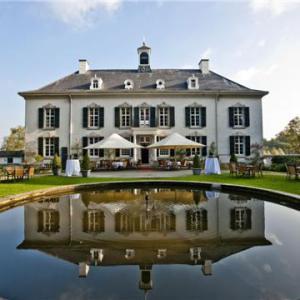 The hotel we stayed at (Hotel Vaalsbroek).
On Monday we had to check out and on our way back home, we stopped in Den Bosch and had a look around the Sint Jan (also a catchedral). However, that was not the most exciting thing happening on Monday. I had been having these 'weird sensations' for a while now, but wasn't quite sure about them, but on Monday morning I just knew it: it was the baby moving! She seems most active in the mornings, since I could clearly feel her moving again on Tuesday morning and again this morning. This is really exciting! I can't wait for my husband to be able to feel her move as well.
18 weeks today, and I'm feeling great. I think I experienced some Braxton-Hicks twice last weekend, but I think that had to do with the amount of activity and with a full bladder.