About one-and-a-half week ago we discovered a small bump on the inside of our dog's left ear. It had been more than a year ago since we had discovered a small growth on the side of his lip. I felt the bump in his year with my fingertips and immediately thought it wasn't looking good: it was hard like another growth and not soft like a 'regular' inflammation. When I went into the vet's office last Thursday, she confirmed my worries. She wanted to take a biopsy specimen from the growth with a hollow needle. She used three different needles but none contained anything useful. And so it came to be that my husband could bring our dog to the vet's office again the following morning for the growth to be surgically removed.
I was not completely 'there' at work on Friday. I kept thinking about Rufus being anesthetized on the operating table and having to come back groggy with stitches in his ear and wearing a so-called 'Elizabethan Collar' – not to mention the waiting for the results…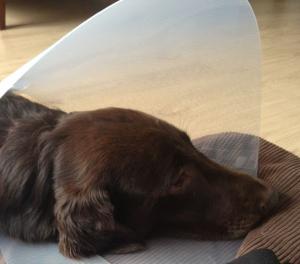 Fortunately, Rufus quickly recovered from the anesthesia and the surgery as a whole. The vet managed to cut the growth out and sow everything back together quite nicely.  Now that we don't have any painkillers to give him, the itching sometimes gets the better of him, but we're keeping a close eye on him when we're at home. When we're away or at night – when we're sleeping – he has to wear the collar.
We should have the results of the biopsy by the end of the week. Fingers crossed everything will turn out fine!