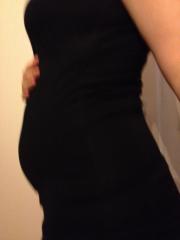 19 weeks pregnant today, and steadily gaining some weight. I'm quite happy about that, honestly, because up until two weeks ago I didn't gain anything and it kind of worried me. My belly is getting larger and my husband is now happy to make jokes about it.
This morning I got this urge to reorganize my wardrobe and that's what I did. I'm now noticing that I am beginning to want stuff organized. Usually I am a bit of a scatterbrain and leave stuff everywhere, but now the end of the summer holidays is nearing, I'm about to start work again, I just want things in order.
I also went to see my team leader today to tell him the news. I have to confess that I was pretty nervous about it, since I don't really know him that well and thought it hard to predict his reaction. But, he was really happy for me and quite enthusiastic. He told me he didn't expect it, because he'd always thought of me as someone who would start having kids when she was older. I told him about my 'hangup' with having my first kid before I turned 30 and that I now (barely) managed to pull it off. I also told the guy who I am mentoring a group with coming school year. He was also happy to hear the news and as surprised as my team leader was.
Even though I certainly notice that my belly is getting bigger every week, I seem to be the only one (besides my husband and my mother-in-law, who already know that I'm pregnant). I'm waiting for that moment when someone sees my belly and asks: "Are you pregnant?"
I'm wearing my maternity pants more and more these days, since they are the most comfortable, but I still fit into my regular t-shirts and sweaters.
This Friday will be the day of the 20-week scan, and although it is exciting to see our baby again after nearly ten weeks, it's also a bit scary since they are going to check whether she looks healthy. But, more on that coming up!