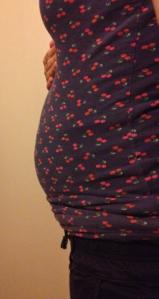 The most exciting and anticipated thing happened this week. On Saturday morning we were having breakfast in bed and I could feel the baby move really well. So I told my husband to put his hand on my belly and be patient. Sure enough, after a while she started moving and she just didn't seem to want to stop. That was the first time my husband could feel the baby move. On Sunday, it was my mother-in-law's turn, but the baby only moved once that time. Now my sister-in-law can't wait to feel her move, but every time she puts her hand on my belly, there's no movement to be felt whatsoever. I guess she'll just have to be a little bit more patient.
I have now told all the students I teach that I'm expecting and their reactions were all really nice. It started on the first day of lessons with a new group I teach. There was this girl who said she wanted to ask me something. The other students she was sitting with were kind of laughing hysterically and told her that she shouldn't ask me the question she was wanting to ask. Eventually, she walked up to me and asked if I was thinking of having children. And I told her, yes, I was. Then she asked me if I was expecting one now and I told her yes. She congratulated me and walked back to her laughing classmates with a gloating smile upon her face. Priceless. To spare my other students all this embarrassment, I decided to just come out and tell them.
I had another appointment at the midwife that same day and my husband decided that he didn't want to come along because she would just ask me how I was feeling, make a note of my weight (with all of my clothes on) and blood pressure and listen to the baby's heartbeat. My mother-in-law, however, decided that she wanted to come along. Although she was glad she'd gone with me, she told me afterwards that she could understand my husband a bit better now. Everything was fine. by the way. Blood pressure was even a bit lower than last time. I'm now steadily gaining weight and the baby's heart sounded great again.
Today (like every other week) I measured my belly and it's grown 2 cm (0.8 in) in just one week. It's crazy how fast everything seems to be going now…