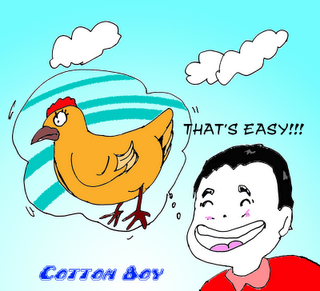 "Hey, Cotton Boy! Are you interested in testifying how smart you are? I have an IQ question for you," my friend said with a big grin on his face. "Certainly, I maybe look like I am daydreaming all day; in fact, I am super sophisticated and intelligent. Go ahead, what is the damn question?" I declared.
Here you go!
You were at the market, purchased a "Hen" at $8. Then, you sold the "Hen" to someone in the market at $9. Later on, you wanted the "Hen" back at the cost of $10. At the end, you sold the "Hen" at $11.
How much did you make? You have ONE (1) minute to think!
Your answer will be a good indicator telling you who you are and what you should be ! I will reveal the answer with a very funny but truthful and logical explanation at 11:30PM (Eastern Time) tonight.
See ya all later!