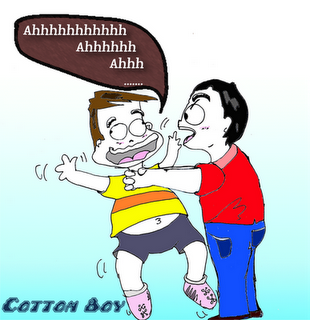 Yesterday was January 1, 2012 which I was lucky to have off from work. I slacked on the fluffy couch, ate chocolate macadamia nut cookies, drank champagne and daydreamed from dawn till dusk if I could avoid going to work at the drugstore the next day. As time was lapsing, at midnight, I suddenly awoke and realized I had better be in bed or I wouldn't be able to report the next morning working shift at my "beloved" drugstore.
The alarm clock struck at 8 a.m. I struggled for a minute and crawled out of bed like a sea cucumber being washed ashore by the relentless wave. I slogged to the bathroom and gazed at the mirror with one eye. "It is my first day of work in 2012. God, please help me remove any obstacles in my life, eradicate any insane people around me and strengthen my determination to seek for a better job than loiter my life at the drugstore," I prayed with a V-shape hand gesture in front of the mirror. I, then, winked at myself and said, "Time to attack the day!"
I punched in and was assigned to stock the shelves. I was so glad that I was not a cashier greeting customers robotically with the blessing, "Happy New Year!" I could take my time to re-stock many products which were looted during the holiday season. I hummed, "Ooooh, you can dance, you can jive, having the time of your life. Ooooh, see that girl, watch that scene, diggin' the dancing queen …"
Suddenly, there was a voice coming from behind my back. "Hey, Amigo. I need help! My wife birthday is today. I want to buy her a gift. Do you still have any singing Christmas Monkeys left? When you press on the monkey's heart; it will sing," asked a Hispanic guy. I turned around and replied, "Let me check!" I looked around the store, but couldn't find any. I informed him, "Sir, I am sorry. They seem to be sold out."
"Damn, never mind! Amigo, do you sell diaper?" he continued. "Yes, follow me. Let me show you the location." We walked towards the aisle; I said, "Here they are!" Before I turned around, he raised another question, "Amigo, it is for my wife." "Sir, there are many different sizes of adult diapers from which you can choose. I believe your wife may require X-large or XX-large; they are adjustable" I answered.
I was ready to retreat to my work; he groaned and moaned, "No, Amigo, it is for ladies. You know, ladies!" "Are you referring "TAMPON"?" I confirmed. He grinned and I said, "They are located at the next aisle. Let me show you where they are," I thought our conversation should reach the end.
"Amigo! Amigo! Amigo!" he sputtered. "Do you know what are the differences of these brands? Which one is better?" I cried out loudly, "What the heck? How do I know! I am a male, AMIGO! Call your wife and ask for details."
Fortunately, he quit asking; otherwise, I would throttle his throat and put a duct tape on his big mouth! No more Amigo! 
I silently walked away.