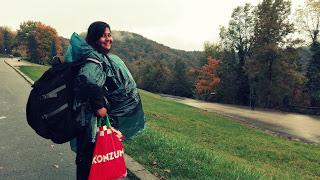 Photo taken at Plitvice National Park, Croatia by Vibhor Dhote
Oh! What are these days I have found myself in!
The bagpacks I carry no longer feel that heavy;
What have they lost if not for a few coins, a few notes,
some letters written long ago, a few locks, a few clothes?
Or is it the loss of some fears, some shackles, some thoughts tied to their waist belts several years ago?
Where is the fatigue? Where are the tears that drenched my pillow?
Where is the inability to wake up early in the morning and the incessant desire to sleep forever?
Today, every time I close my eyes, I need to type, I need to write.
Where is the indolence, the procrastination, the lack of, as I would say whenever they ask, the "limited time"?
What is this insouciance called?
Where have eloped the eternal need for love, money and the things I've already sold?
Why Plath has shut her eyes today whom I so deeply adored?
Bukowski's Bluebird is set free now while Sahir's pleas I dearly hold,
Because when he asks his muse not to leave before the fall of the dusk
My muse cures my day, lures my night and finds some more of my trust..
Oh, what do I call this courage that I rely less on the metaphors today?
More than heard, more than understood, more than being just okay.
What do I call this love for the stars unseen, the aroma in the air
the sound of the leaves fluttering as they breathe the wind?
A stranger's smile, a traveler's note on my bed,
A black burnt pebble from the mountains,
A lock I stole the key of which I returned,
I have picked up with fervour, an orphan cone of a pine.
But how do I keep away the only fear I see now?
That someday, when I am back on earth, back on the ground
Away from these half-built walls, these lit up streets, these lost clouds,
Maybe I won't ever be the same, the way I am here now.