I needed to write something, as I always do, and I believe the best way of writing is when you're on a train. Right now I am enroute Krakow from Wroclaw, Poland and listening to the song Bulleya from Ae Dil Hai Mushkil, which reminded me to share what I felt after watching the movie.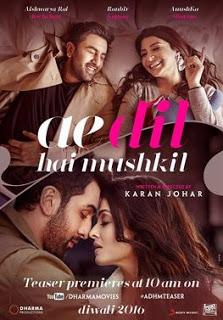 Official Poster Copyright to Publisher/Distributor/Graphic Artist of the movie
I think the movie is dispensable, despite the entire buzz around it. Glimpse of The Breakup Song did develop an inclination to watch the movie for me, but when I listened to the entire song it was quite a disappointment, thanks to the awkward opening of the song and Badshaah's rap the lyrics of which reminds one of nothing but the movie Jab We Met. What's with "use phone mila aur gaali de, photo jala ke kar de raakh"? Couldn't find new or better ways, eh? I do like the songs Channa Mereya and Bulleya though, thanks to the lyricist. Most of the songs I love are for the lyrics than the music but of course, without a soothing music even a great song won't be bearable. (Kitne dafe, subah ko meri, tere aangan mein baithe, maine shaam kiya, Say Waah to Amitabh Bhattacharya!)
Only last night I watched the movie and the first part, I felt, was such a cliché. A guy and a girl meet, they travel and have a lot of fun- don't we have enough of that right from DDLJ? Are there no innovative ways of falling in love or am I asking for too much? It definitely reminded me of the recent Ranbir Kapoor and Deepika Padukone movie Tamasha. Thankfully, the love in ADHM is
ek tarfa
- something fresh and not much talked about in Bollywood.
Aishwarya Rai Bachchan comes to my rescue after half of the drama is over. Well, watching Fawad Khan was soothing too but he didn't really have much to do as an actor in the movie. Aishwarya, however, is a treat to the eyes, and a song to the ears. I have never admired her more in any other movie. Hats off to the dialog writer, Niranjan Iyengar, for writing such beautiful lines for her to speak in the movie! Same relief I found after listening to the words coming out of Shahrukh's lips. Had it not been for these two actors, who are neither my favorite nor have they ever been, I wouldn't be able to tolerate the movie much.
I remember when we realized, in Budapest, that SRK and Anushka would be there in five minutes for a song-shoot for the upcoming movie 'The Ring' I was more excited to see Anushka than SRK. After watching ADHM, the exact opposite feelings have just overcome my little heart.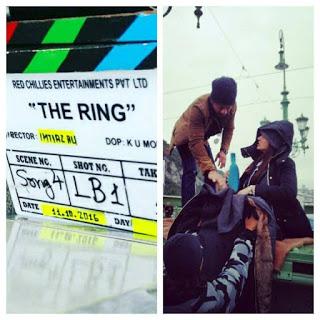 Pic Courtesy: Robin Singla
Aishwarya plays a strong character of a Shayara, the word I learnt only after watching ADHM, in an admirable way. Ranbir plays his role exactly the way his character demands him to. Anushka and Ranbir have been good actors, no doubt, and hence, their acting skills seem impeccable as they both do justice to their roles- more for Ranbir than for Anushka. However, the first half of the movie disappointed me so much that I couldn't really feel empathetic about the characters which I usually do in other movies. Oh, I have cried my eyes out watching numerous movies and if I didn't feel a thing for these characters, I am not sure how others are taking this. However, one characteristic of the central character Ranbir which I liked, and which I think is something new on the platter, is that he wouldn't want to sit alone or be alone (although I don't know how he turned up in the club alone if that's so) but this is one behavior we often find in people we meet, making his character realistic.The airport scene had to happen, like most Bollywood movies that try to leave an impact, this time in a fresh way – Thankfully, although I had guessed it would be that way. Anushka didn't succumb to Ranbir's pleas – another thanks to the Karan Johar. Anushka's
Sukoonghar
could have created better dialogues with the concept of
Tedha
love but, surprisingly, I see my Facebook News Feed flooded with this dialogue, so maybe people are embracing it.
I don't have much against the movie because the concept on which it was built was supposed to be good, right from the beginning. But it just couldn't make me not think of how the scenes are predictable, the screenplay a bit repetitive. For instance, Ranbir begins the movie with an Interview and I simple cannot not think of Two States.  In retrospect maybe one can survive after watching the movie once, but that's it.
Watch this movie if you cannot become tired of hearing so much about love. Watch this movie if you have nothing better to do and you could certainly do by looking at some pretty faces. Don't watch this movie if you want to watch something emotionally impactful or something feel-good Bollywoody happy-feelings
wali
movie. But do watch this movie if you do not feel the way I do.