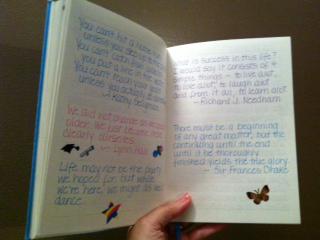 For years I have loved reading and collecting quotes.  I'd clip snip-its from magazines, newspapers or church bulletins; write down lyrics from a song or lines from poems on scraps of paper, post-it notes or write a line from a movie on a butter-splattered napkin.  I'd highlight favorite passages from the Bible or a book I was reading; whenever and wherever something spoke to me that I wanted to remember or something I thought I might need to cling to in times of distress.
Later on, having gained access to the information super highway, otherwise know as the internet, I took to websites dedicated solely to quotes and inspirational prose as well as blogs and social networking sites.  Trust me when I say that Status Shuffle for Facebook offers some terrific giggles along with thought provoking quotes.
Some time ago I watched a film entitled "A Walk to Remember" starring Mandy Moore.  Her character had a journal that once was her mother's.  In it she collected quotes of meaning to her.
That was exactly what my messy little pile of tidbits needed....a collective place of their own!  It took a bit of time but I began to pen each of my words of wisdom, inspiration, humor and just plain cuteness into a chubby journal I purchased.  Sometimes quotes were entered in colorful inks (thanks to Sharpie); sometimes pages were adorned with stickers or free-handed doodling; sometimes I was just lucky to get them scrawled down before I fell asleep.
Occasionally, if I can, when I am tucking away a new verse, I like to flip back through the pages, glance at past entries and reflect on why that entry was important to me at the time.  More often than not, many of my cherished quotes still hold their value at present.
Today's gem is courtesy of C. S. Lewis...
"You are never too old to set another goal or to dream a new dream."