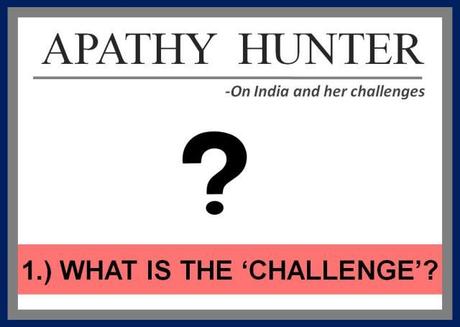 Ask anyone what they think are the biggest problems facing India today. The answers you would get are probably some or all of the following:
Hunger
Malnutrition
Poverty
Healthcare
Infrastructure
Irrigation
Global Warming
Corruption
Communalism
Casteism
Law and Order
I am sure most of you will agree with this list by and large.
But what if I were to tell you that the above mentioned is not a list of India's problems but rather a list of the EFFECTS of India's real problems? The real problems confronting us as a nation are hidden entities that cause us all the hardship that we know of today. These 'Real Challenges' are the ones that not many politicians wants to touch, no media wants to intensively probe and rather more importantly- no citizen wants to learn about. The masses need to identify the real problems they face, after which it is their responsibility to urge and support the administration in pursuing the correct issues rather than barking at the effects as mentioned above.
So what are these hidden yet serious problems that India faces? How can solving these problems naturally reduce the burden of its effects such as corruption and so forth? Find out in the upcoming posts of Apathy Hunter.